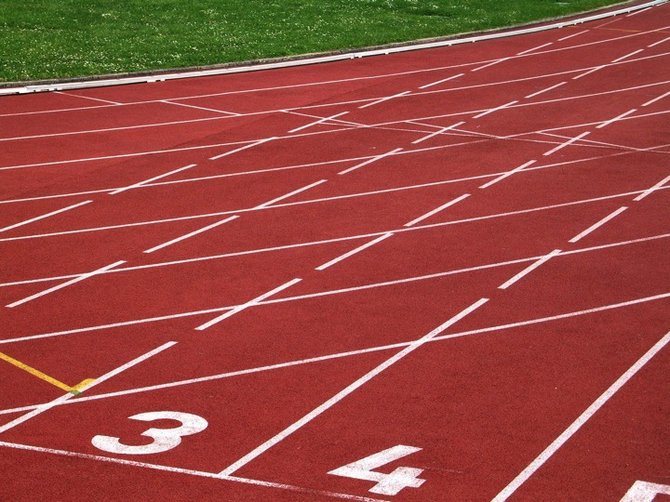 By BRENT STUBBS
Senior Sports Reporter
bstubbs@tribunemedia.net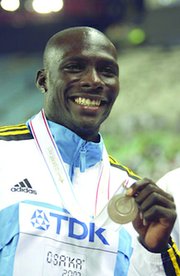 THE Bahamas Association of Athletic Associations' bid for the men's 4 x 100 metre relay team to qualify for the 2012 Olympic Games all fell apart in the Silver Lightning's Thomas A Robinson Track Classic when Warren Fraser and Derrick Atkins failed to connect on the first baton exchange Saturday night.
The team, including Johnathan Farquharson and Trevorvano Mackey on the third and fourth legs respectively, could only watch as Fraser stumbled after he tripped as a result of bumping into United States Virgin Islands' lead off runner David Walters.
"That's all we had was an effort and you can't blame the men," said relay coordinator Henry Rolle, who joined the BAAA to bring in teams from the US Virgin Islands, Trinidad and Tobago and the Dominican Republic to give both the men and women's teams a last chance to improve on their times before the July 2 deadline to make the cut of the top 16 to compete in London, England, in August.
"When it goes bad, it has a snowball effect. The positive of it was that the girls got through, but we still have to wait until the deadline to ensure that they are still in the top 16. I would have really loved for the men to get in, but it was so tight and I think the pressure just got to all of us. It was a learning experience."
With just the individual races to concentrate on now for the men, Fraser said they were really chasing after the ticket for the men's relay team and he felt bad that he got bumped and wasn't able to pull the team through.
"I was out there and going into the exchange, the guy stepped out and as the curve runner, I was close to the line and he just swifted his whole body and my arm hit his arm and our legs hit each other and the momentum pulled me down because he was such a big guy compared to me," Fraser said.
"I wasn't able to get the exchange off."
Atkins, as he waited for the baton, said he didn't see what happened, but realized that something went wrong after he reached and it wasn't there.
"I took off, but I didn't go out that fast. When I looked around, I just saw Warren on the ground," Atkins said. "But things happen. Last year (at the IAAF World Championships), a couple of the elite things had some problems and St Kitts was able to get through with the bronze.
"Not taking anything away from them. They deserve it. But things happen. Today was just not our day."
The good thing is that both Atkins and Fraser have ran the A qualifying standard for the men's 100. The two are now preparing for their showdown this weekend during the BAAA Scotabank National Track and Field Championships.
Atkins, however, thanked Rolle and the BAAA for providing the relay team with a chance to make one last splash at attempting to qualify for the Olympics. He also thanked the countries for coming in and for Rupert Gardiner and his Silver Lightning Track Club for the provisions for them to compete.
The team ran 40.12 seconds to win their heat but needed to run in the 48-second range in order to be in contention for one of the 16 spots as the deadline draws near.
As for the women's 4 x 100 team, V'Alonee Robinson, Anthonique Strachan, Sheniqua 'Q' Ferguson and Amara Jones ran 44.38 for second behind Trinidad & Tobago's winning team, featuring World Championship 200 bronze medallist Kelly-Ann Baptiste (43.21).
The Bahamian time, however, was slower than their preliminary time of 43.52 with veteran Chandra Sturrup in the line-up as they once again trailed Trinidad (43.35).
But the Bahamas is in position to qualify for London and all of the women were pleased with their performance, despite the fact that Debbie Ferguson-McKenzie was present but didn't run because of an injury.
For Robinson, who had a chance to run with the team a few times, she said it's always a morale booster for her to gain her confidence
"I feel our chances are very good. We have a very nice team, mainly young ladies, but I think we can surprise a lot of people if we stay working hard and healthy," she said. "We just have to be able to pass the baton around."
Ferguson, who has already qualified for the 200, said it was a good experience for her.
"Finally, we got all of the girls together. Some of us have some nicks and knacks that we're dealing with, so we just wanted to come out here and give a good showing to the public and qualify for the Olympics," she said.
"We just hope that everybody out here can get healthy and we can go to the Olympics and have an even better showing. Everyone is a little bumped up but, once we can get over the injuries, we should have a good team going into the Olympics."
Last year at the World Championships, Strachan remembered clearly how she fell on the third leg, got up and passed the baton to Nivea Smith, but it was too late to get the team in the medal hunt. She's just hoping that things will be better this year.
"We're all giving it 100 per cent. We're all gelling and getting along," she said. "We're all doing what we need to do. I'm sure that we will be there as a relay team doing the best that we can. So we just have to wait and see what happen. But we will be ready for the Games."
Jones, who is making her debut this year as a member of the team, said she's thrilled to have been afforded the opportunity to compete.
"It was a learning experience for me and I hope that we just continue to get better," she stated. "We've always had a really good team, so I'm looking forward to us making that medal stand. We have the talent to do it. We just need everybody to be healthy."
There were no other Olympic qualifiers for the meet, which according to Gardiner lived up to its advanced billing, despite the fact that it was originally postponed and could not be held until now.
The meet featured an age group and open segment. There were a number of outstanding performances from Karrah Ferguson, D'Ariha Davis, Jaida Knowles, Angel Collie, Dreshanae Rolle, Adira Ferguson, Amber Ford, Carmeisha Cox, Hughnique Rolle, Lavern Eve, Tumaini Skinner, Otto Lainz, Raymond Oriakhi, Devaughn Whyms, Ian Kerr, Tre Adderley, Latario Collie-Minns, Delron Innis, Leslie Whyte.
In the invitational races, Wesley Neymour dropped down from the 800 to win the men's 400 in 46.82; David Walters of the US Virgin Island won the 100 in 10.28, while his team-mate Mitchell Curtis took the 200 in 20.62. Virgil Hodge from St Kitts and Nevis won the women's 100 in 11.30 and Shantell Malone took the 400 in 54.39.