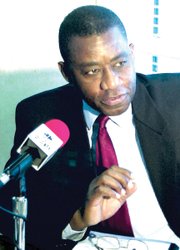 By NEIL HARTNELL
Tribune Business Editor
SO-CALLED 'stimulus spending' "never works" in an economy like the Bahamas because it only succeeds in "running down" the all-important foreign exchange reserves, a former finance minister has told Tribune Business.
In what some might term as a criticism of the former Ingraham administration's multi-million dollar capital works and infrastructure projects, James Smith, now a key Ministry of Finance consultant, said that rather than stimulate aggregate demand in the Bahamian economy, such projects were heavily dependent on imported materials and equipment.
This, together with the foreign currency borrowings that financed them, ultimately contributed to a drawdown on the Bahamas' foreign currency reserves via increased debt servicing and imports, Mr Smith said.
"I never believed stimulus spending worked in a small country like the Bahamas," he told Tribune Business. "You are already running down the reserves, or borrowing foreign currency and deferring the rundown in reserves until you pay it. It doesn't work in a developing country."
Mr Smith, a former Central Bank governor, said conventional economic theory suggested capital works and infrastructure projects, financed by increased government spending, acted as a 'stimulus' by expanding total demand within a nation's economy.
But, even in countries with "a lot of domestic production", such projects inevitably needed to import large quantities of construction materials and related equipment, leading to considerable foreign exchange outflows.
"Any time you increase GDP through expenditure in a developing country, it either increases imports of capital equipment or financial goods," Mr Smith told Tribune Business.
He added that this needed to be counterbalanced by "strong foreign exchange earnings", which in the Bahamas' case was tourism and foreign direct investment (FDI), neither of which was well-placed to oblige since 2008.
"By increasing spending, you're running down the reserves or committing them to future use," the Ministry of Finance adviser explained. "You can see that in our increase in foreign currency debt."
According to the Central Bank's April 2012 monthly economic and financial developments report, the Bahamas' total foreign currency debt stood at $1.457 billion, with $818.5 million or 56.2 per cent held by foreign investors. The total foreign currency debt accounted for 33.5 per cent - just over one-third - of this nation's total $4.343 billion debt at end-February 2012.
"Whatever we use locally we consume - we consume as imports," Mr Smith said, "so we see the impact in the balance of trade [current account deficits]. It's a commitment to future drawdowns on the reserves, and shows up in growing deficits."
While the US government was able to finance itself from bond issues and other government papers, acquired by the Chinese and worldwide investors, as the US dollar was still a desired country, Mr Smith said the Bahamas was at a much lower level.
"We, on the other hand, when we widen the deficit we increase demand for other people's imports, rather than creating demand for our own imports," he explained.
The Ingraham administration embarked on a massive capital works programme during its 2007-2012 administration, both as a means to prevent the bottom falling out of the Bahamian economy during the global recession, and to ensure that this nation was equipped with the necessary first-world infrastructure to support its major industries and future growth.
Apart from pushing forward with the $409.5 million Lynden Pindling International Airport (LPIA) expansion, the former government also completed the $44 million Nassau Harbour dredging, oversaw the $83 million move to the new Arawak Cay port, and committed to a wide range of Inter-American Development Bank projects: The controversial $200 million-plus New Providence Road Improvement Project; the $81 million upgrade to the Water & Sewerage Corporation; and the $50 million reform of the aviation sector.
Yet many were concerned about the future debt overhang from the vast capital works programme, and the elevated borrowing occurring all at once.
And Mr Smith is not alone in expressing concern about the resulting impact on the Bahamas' foreign reserves.
The United Nations' (UN) Economic Commission for Latin America and the Caribbean, in a macroeconomic report on the Bahamas' released on Friday, warned that "a more solid balance of payments current account" was needed to provide the foreign exchange required for import financing.