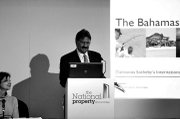 A BAHAMIAN realtor has participated in an exclusive event hosted by the UK's largest real estate agency.
George Damianos, president of Damianos Sotheby's International Realty, attended the event held by Countrywide at the Millennium Hotel in London. Countrywide owns and operates London Sotheby's International Realty and UK Sotheby's International Realty.
International realtors attended, with only two invited from the Caribbean - one from Barbados, and Mr Damianos from the Bahamas.
Mr Damianos gave a presentation on the Bahamas, showcasing it as an ideal destination for primary and second home owners, and highlighting its tax neutral incentives and the ease of buying property.
He also featured many of the company's exclusive property listings before an audience that included more than 150 industry leaders, and representatives from banks such as Lloyds, RBS, HSBC and Virgin Money.
Damianos Sotheby's International Realty has 11 offices throughout the Bahamas, with five offices in the Abaco's, including two in Hope Town, and one in each of Marsh Harbour, Treasure Cay and Guana Cay. This is in addition to its offices in Nassau, Old Fort Bay and Lyford Cay, plus in Governor's Harbour, Spanish Wells and Georgetown.