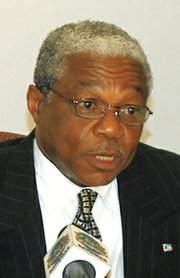 NO EFFORT should be spared in eradicating organised gangs from the penal system, Minister of National Security Dr Bernard Nottage said.
Dr Nottage also challenged regional officials to develop new ways - including incentives - to expose then stamp out corruption among prison officials.
"Given the poisonous, insidious impact of gangs within our penal system, no effort should be spared to eradicate them by all lawful means possible," Dr Nottage said.
"Not only do gangs spur violence, they are often central to 'hits' being ordered on law abiding witnesses and ordinary citizens."
Addressing the joint opening session of the Association of Caribbean Heads of Conference and Prison Services and the Caribbean Association of Corrections Conferences, Dr Nottage said the presence of organised gangs in the Bahamas' penal system "is a relatively new phenomenon".
Prison and correction officials from 14 Caribbean countries, including the Bahamas, are participating in the twin conferences.
The minister said the emergence of organised gangs and the importation of contraband such as illicit drugs and cell phones are negatively impacting prison populations and administrations worldwide.
"These twin evils continue to wreak havoc on prison administrations because of the polluting and contaminating influence on institutional law and order and public safety generally," Dr Nottage said.
"The incorporation of various technical devices to stem the stream of contraband smuggling has led to varying degrees of success. I am advised that this is largely so because most of our penal institutions are saddled with a relatively small band of highly organised rogue officers who use trafficking as a part-time occupation.
"One may ask, 'How is it possible for a few bad apples to spoil the barrel?' The easy explanation takes us back to the age-old adage that evil men triumph, when good men do nothing," he said.
Dr Nottage suggested that, going forward, regional penal institutions should no longer just try to identify those officers who are corrupt, but also find ways to provide incentives to those who are upright and honest.
"What I am suggesting is that in order to reduce the scourge of contraband common to all of our institutions, we must no longer simply try to identify those who are corrupt. We must find ways to (provide incentives) for officers who are otherwise law-abiding, but indifferent and silent in the face of wrongdoing.
"You must find new ways not just to resist and expose complicity and corruption in corrections. Indeed it is your duty to expose it," Dr Nottage said. "I note from the programme that one of your sessions will examine the role of gangs within prisons. It is my hope that as a result of your deliberations, you may help to formulate new ideas and policies on how we may best deal with this vexing problem."