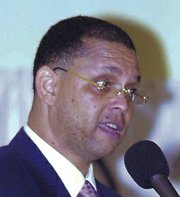 By NATARIO McKENZIE
Tribune Business Reporter
nmckenzie@tribunemedia.net
BAHA MAR executives said yesterday that $550 million had been invested into the $2.6 billion development to-date, with $130 million thus far awarded to Bahamian firms.
Robert Sands, Baha Mar's senior vice-president of government and external affairs, said close to 1,700 job opportunities had been created for Bahamians on the resort development project on Cable Beach. He made the announcement after Baha Mar executives hosted Prime Minister Christie and several members of his Cabinet to a closed meeting to discuss the progress of the project and tour the development site.
Mr Sands said: "We advised the Government today that Baha Mar has created to-date close to 1,700 job opportunities for Bahamians, and we currently have approximately 1,000 work permits. Of that we have 800 Chinese workers on site. The Government did say that they would wish for Baha Mar to find additional ways to improve the number of Bahamians, and we hear them loud and clear."
Mr Sands said the total investment in the project to-date was $550 million. "The total investment to-date is $550 million, of which $160 million has been bidded to Bahamian companies, and $130 million has been awarded to Bahamian companies," he added.
Mr Sands said the project was on target for opening in December 2014. "We are a third of the way through. We are on target to complete this project for opening in December 2014," he added.
"We advised the Government that the superstructures and the topping of all of the roofs of all these buildings will be completed by December 2013 and March 2014, so the actual physical buildings themselves will all be complete by the end of 2013." Mr Sands noted that demolition of several towers at the Wyndham, and the Nassau Beach Hotel, was in progress and should be completed by year-end.
Baha Mar will offer hotel brands such as Rosewood Hotels and Resorts, Morgans Hotel Group (Mondrian Hotels) and Hyatt Hotel and Resorts. The four hotels will bring on stream more than 2,200 new rooms.
Mr Sands said: "The only partner or brand that we have not announced to-date is the casino brand, and we hope to have word on that by the end of summer of this year."