By BRENT STUBBS
Senior Sports Reporter
bstubbs@tribunemedia.net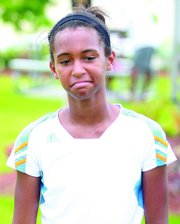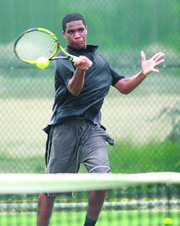 Gabriela Donaldson couldn't ask for a better birthday present than to book her spot in the final of the girls' under-14 singles final at the Bahamas Lawn Tennis Association's Junkanoo Bowl.
The BLTA was hoping for an historic final between two Bahamian players in the week-long International Tennis Federation's Junior Circuit Grade 4 Tournament at the National Tennis Center.
But Iesha Shepherd, the No.1 seed, was ousted after she fell victim to American Kianah Motosono 6-0, 6-1. Shortly after, Donaldson lived up to her end of the bargain with a stunning 6-3, 6-3 victory over No.2 seed Eva Frazzoni of Bermuda.
She will be joined by 13-year-old Joshua Turnquest, who advanced to the boys' 14 final with a 7-5, 6-3 win over Dimitri Bird of Jamaica. Turnquest will play another Jamaican, Blaise Bicknell, who won 6-1, 6-7, 6-1 over William Way from Bermuda.
"It was good. She played really hard in the second set, but I really wanted to win," Donaldson said. "I saw her play before, so I knew she was going to be tough."
Donaldson, who turned 13 yesterday, said her focus is now on the final. Then she will prepare for a big celebration, hopefully as the champion. But if she falls short, she will be pleased just to be in the final.
"I saw her play and she's going to be tough too," Donaldson said. "But I hope to be ready."
Her opponent, 12-year-old Motosono, had an impressive performance against Shepherd.
"I was expecting her to play a lot tougher, but I just got on the court and I started playing amazingly," Motosono said. "I was pumped up and I just kept it up. She played amazing, but I was just ready."
After going up a break at 3-0 in the first set, Motosono said she felt the adrenaline and decided to go for the victory and clinched her berth into the final.
"I just feel ready. I'm excited. This is my first ITF final, so I'm really excited," said Motosono, who is also enjoying her first trip to the Bahamas.
For Shepherd, she was disappointed in losing the way she did. "I tried to play my game and not play hers," she said. "I couldn't get the butterflies out. I tried to come back in the second set, but I just couldn't get it together."
After falling behind 5-0 in the first set, Shepherd said she knew she was in trouble. "I just couldn't come back," she said.
While the action was geared mainly towards doubles, there were a few matches in the boys' under-18 singles.
Jody Turnquest, fresh off his appearance on the men's team at the Davis Cup American Zone III tie in Tobago over the weekend, was sent packing with a 6-3, 6-0 loss to American Tommy Paul.
"None of my shots were dropping in," Turnquest said. "I really wasn't prepared for today."
Turnquest, however, said after representing the Bahamas at the Davis Cup, he really wanted to come home and turn in a good performance, but it wasn't his day.
Last year, Turnquest got past the first round before he was eliminated. He didn't expect the first round exit this time.
Paul, who had the reverse order of finish last year, was elated to move on to the second round.
"I went out there hoping to know and I played like I wanted to win," he said.
When the 15-year-old took the first two games in the first set, Paul said he earned a lot of confidence and that helped to motivate him the rest of the way.
No other Bahamian male player was left after Rasheed Carey and Christian Cargill were also ousted. Carey lost 6-2, 6-0 to American Alex Rybakov and Cargill fell to No.8 seed Ryotaro Matsumura from Japan, 6-2, 6-3.
Except for the under-14s players in today's finals, Danielle Thompson will play her second round match in the 18s girls' singles against American Julieta Dalmau.