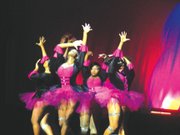 By ALESHA CADET
Tribune Features Reporter
THE instructors at Eurhythmics Dance Studio promised patrons a bold, spicy, colorful, exciting and innovative show on Sunday, as the studio celebrated its 18th year.
Audience members said they delivered with the presentation of "Rock Your Body", a dance extravaganza at the Rain Forest Theater, Crystal Palace. The show brought culture, soul and overall entertainment to the entire family.
As soon as the lights dimmed and the curtains opened, on stage was a choreographed showcase of dance performances ranging from ballet, modern jazz, tap, pointe, and hip hop.
Gabriella Szabo, an instructor at Eurhythmics Dance Studio told Tribune Entertainment she was very pleased with the turn out. She said what made her most happy, was the fact that people were in the crowd cheering as the production went on throughout the night.
Describing one of the dance selections for the night entitled the Merelyn Deveaux, Ms Szabo said Merelyn was a past student of the studio, about 10 years ago, who went off to create her own studio. She said the students who participated in the selection were guest performers from Merelyn's studio.
From the knowledge she received from Merelyn, Ms Szabo said the dance piece was about heaven and hell. The dancers dressed in white, representing angels and black, representing evil. Dancing as if they were fighting each other, the choreography showed angels winning in a battle over evil.
Speaking about another selection "the Circle of life", Mario Wright of Eurhythmics Dance Studio said it has always been one of his favorites. He said it is a dance number that defines Eurhythmics Dance Studio.
Ms Szabo added: "It was one of the first pieces the studio did, which was around 1994. People would always ask for it since the very first year, so I kept it as our signature piece. I liked the song a lot from the movie the lion king and the choreography has a lot of meaning to me. It has so much power. I never choose songs I don't like."
Given the theme "Rock Your Body", Mr Wright said the show sent a message to the audience to just let loose and dance, because life is short and you only live once.
Ending in a speechless twist, the studio called the show stopper total domination. The sounds of "Dirty Bit" by Black Eyed Peas filled the room, as the lights went dim. The glow in the dark costumes, trimmed with green neon lights, were the only visible thing in the room.
"The first time we practiced it in the dark with the costumes, we were screaming all the way because the lights were so cute," she said.
Eurhythmics Dance Studio was established in 1994. It is owned by dance instructor Gabriella Szabo and is operated by her and her fiancee Mario Wright.