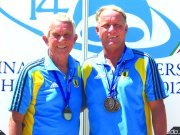 Making Bahamians proud, Swift swimming masters won five medals at the 14th FINA World Masters Championships - the largest swim meet in the world - in Riccione, Italy, earlier this month. It was a meet that will be remembered as the largest and longest meet in the world that had the flag of the Bahamas flying high.
"The pools were crowded, the days long, and the competition fierce but Swift swam swiftly. It was a Knowles family affair that represented both Swift and the Bahamas. Percy, Andy, Nancy and Elliott Knowles all swam well," according to a press release.
The team was managed by Mrs Erin Knowles.
The championships' biggest reception was reserved for swimming, where the entire Masters community - competitors, spectators and fans - cheered from the stands at the outdoor pool of the "Polisportiva Communale" in Riccione.
"It is a quarter past midnight. They are all waiting for the last heat, the men's 50m butterfly, to start. Sergey Mukhin of Russia was the last champion of the day, winning the event in 25.09 (25-29 age group). And all together, they celebrated a great midnight show after all heats were held during a long, long day. The competition had started at 7:30 in the morning with the first heat for the men's 400m IM, Spain's Manuel Pinya touching first in 13:17.93 (85-89 age group).
Long days and sessions confirmed the ever-vibrant interest for masters swimming all over the world. A total of 77 affiliated member federations, from Andorra to Zimbabwe, were present in Riccione and close to 10'000 competitors in swimming only provided a total 28'878 individual and 1556 relay splashes at the event - an absolute record in FINA's history.
Up to now, the 2000 edition in Munich, Germany, held the record of entries (17'144, individual and relays together).
"We never expected such a great number of participants. We are very surprised and overwhelmed by this very great interest", said Paolo Barelli, FINA Bureau honorary secretary and president of the Italian Swimming Federation. "It shows also the great attraction of Riccione and the Adriatic Sea", he added.
Andy, Nancy, and Elliott also swam in the 3 K Open Water race. Medals are given to the top 10 finishes in each age group. There were 19 swims at the championships and here is how the week unfolded.
800 Free - Andy (55-57 age
group) - 6th in 10:17.82
100 Breast - Percy (80-84 age
group) - 13th in 2:19.96
100 Free - Andy - 15th in
1:03.29
100 Free - Elliott (25-29 age
group) - 194th in 1:02.91
100 Free - Nancy (55-59 age
group) - 42nd in 1:30.49
100 Breast - Nancy - 53rd in 1:58.44
200 Free - Percy - 13th in
4:19.85
200 Free - Andy - 10th in
2:18.16
50 Fly - Nancy - 31st in 43.95
50 Free - Andy - 22nd in 28.88
50 Free - Elliott- 182nd in 27.80
50 Free - Nancy - 63rd in 39.79
100 Fly - Nancy - 16th in
1:46.90
50 Breast - Percy - 14th in
58.10
200 Breast - Percy - 9th in
4:59..62
400 Free - Andy - 6th in 4:50.66
3 K - Open Water Swim
Nancy - 25th - 51.07
Elliott - 61st - 48.28
Andy - 7th - 33.06
An interesting note is that Andy got to compete against Jim Montgomery who won the gold medal in the 1976 Olympics (when Andy competed) in the 100 free and was the first man to break 50 seconds in the event. Andy beat him in the 50 free at this masters meet.