By BRENT STUBBS
Senior Sports Reporter
bstubbs@tribunemedia.net
THE Bahamas' only representatives left in the Bahamas Lawn Tennis Association's third annual Junkanoo Bowl ITF Junior Circuit Tournament is Christian Cargill and Kevin Major - the boys' doubles team.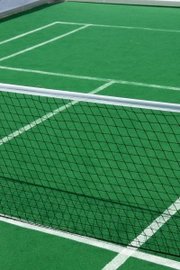 Starting 9am today at the National Tennis Center, Cargill and Major are expected to team up in the boys' doubles semifinal against the No.4 seeded team of Daniel O'Connor of the US and Rolando Torrellas from Venezuela.
The winner will eventually play in the final later in the day.
Their opponents will come from the winners between the duo of American Farzin Danny Amiri and Mexican Rogello Siller and the No.2 combo of American Nicolas Jarry and Colombian Juan Sebastian Marino.
"It will be good to have another Bahamian team not only in the final, but winning it," said BLTA president Derron Donaldson, referring to the team of Gabriela Donaldson and Iesha Shepherd, who won the girls' 14s doubles title on Wednesday.
Cargill and Major disposed of Canadian Alexander Day and American Lamar Remy, O'Connor and Torellas out-lasted the Antilles-Bahamian team of Kyle Joseph and Shaquille Taylor 7-6 (5), 5-7 (10-7), Amiri and Siller beat the American combo of Andrew Ely and Daniel Shebshayevich 6-3, 6-0 and Jarry and Marino had identical scores of 6-1, 6-1 over the Bahamian duo of Dirnj Saunders and Jody Turnquest.
Also today at 9am, the semifinals in both the girls and boys singles and finals in the girls doubles is set to take place.
Only the No.1 seeded players in the boys and girls singles have survived.
In the boys segment, No.1 Daniel Kerznerman from the US is slated to take on Mexican Santiago Cevallos. The winner will face the winner between Americans Farzin Amiri and Tommy Paul in the other match-up.
The boys' final will be played on Saturday.
In the quarterfinals, Kerznerman easily won 6-1, 6-0 over No.5 seed R Torrellas from Venezuela, Santiago upset No.3 seed J Marino of Colombia 6-2, 3-6, 6-0, Amiri knocked off American Jake Stefanik 6-1, 6-3 and Matsumura won 6-4, 6-2 over Tommy Paul.
On the girls' side, No.1 seed Valeria Salazar of Mexico will tangle with American Oliver Hauger. The winner will tackle the winner between Marlana Gould from the United States and Alizee Michaud of France.
Their final will also be played on Saturday.
Salazar got by No.6 seed Ana Paula Neffa De Los Rios 6-3, 6-2 in her quarters, Huager beat American Julieta Dalmau 6-3, 6-1, Gould won 6-2, 6-1 over Canadian Alexis Prokopuik and Michaud went the distance for a 6-3, 3-6, 6-1 win over American Caroline Turner.
The girls' doubles final will be a match-up between the top two seeds.
The No.1 pair of Mexicans Antonella Bramato and Vaeria Salazar will square off against the No.2 squad of Dasha Ivanova from the United States and Yollimar Ogando of Puerto Rico.
Bramato and Salazar won 6-7 (5), 6-2 (10-7) over Tyler Smith from Bermuda and Jeung Won from Korea, while Ivanova and Ogando won 6-1, 7-5 over No.3 seed Melissa Laing of the Republic of China and Neffa De Los Rios.
More than 100 players from 20 different countries started the tournament with the qualifying rounds over the weekend and Donaldson said he got nothing but high marks on the BLTA.
"Everything is going good. It was tough putting it together, giving it was my first year running something this big on such short notice," said Donaldson, who took over after the resignation of the original tournament director.
"The kids had fun. I had numerous players from away and parents coming up and saying well done. They are already talking about coming back for another tournament in November and again next year."