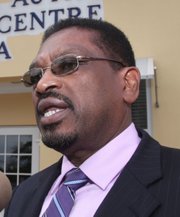 By DR HUBERT A MINNIS
THE Bahamas is approaching the election season, with numerous events, rallies and even family gatherings. I implore you, to let calm heads prevail during this season.
We must remember, that we are all Bahamians and when the election is over, we must all still live together in this Bahamaland. It is not unusual for one home to have individuals who support different political parties but what is unusual for us, is for family members not to support each other, instead allowing political persuasions to affect our family bond.
We must continue to respect an individual's right to speak, support and vote for the party of their choice, as this is the fundamentals of the democratic process at its best. We must bring out the best in each other; we should practice patience, hospitality and love. We should abstain from mud-slinging and personal attacks on each other because at the end of the day, we all want one thing, a better Bahamas. No one wants to live in a violent, unfriendly environment.
I was saddened by the news of one of Grand Bahama's FNM candidates, Peter Turnquest's daughter being attacked presumably by political opponents Saturday. This most unfortunate incident should not happen in our country and I wish her a speedy recovery. It is also my wish that in this Christian society, we would not encounter this type of event again as the election fever heats up.
As Bahamians, let's continue to build a better Bahamas, a Bahamas where at the end of this electoral process, FNMs, PLPs, DNAs and Independents would work together to forge a brighter future for our young people.
Killarney does not support violence and personal attacks, and I ask all Bahamians to refrain from this destructive behaviour.