By LAMECH JOHNSON
Tribune Staff Reporter
ljohnson@tribunemedia.net
A MAN's admission to possessing 60 pounds of marijuana with intent to supply saved three young women from being remanded with him to Her Majesty's prison yesterday.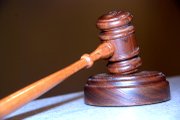 While charges were dropped against Jandaiya Taylor, 19, Jenesta Bell, 21, and Simone Brennen, 24, 28-year-old Deangelo Johnson was sentenced to four years at HMP and fined $20,000.
The man and three women were arraigned before Deputy Chief Magistrate Carolita Bethell in Court 8, Nassau Street, on the drug possession charge.
The offence was committed on Wednesday, March 21. However the women pleaded not guilty to the charge. Johnson pleaded guilty.
According to the detailed report read by the police prosecutor, the accused persons, all in a car driven by Taylor, were pulled over by police on Lumumba Lane, Fox Hill, shortly before noon.
Mobile patrol officers ordered them out of the vehicle. Deangelo Johnson, who ran from the vehicle, was captured shortly after police pursued him.
He was brought back to the car where officers searched the car in the presence of the four of them. Six bags of suspected marijuana was found. They were cautioned and placed under arrest.
Johnson was interviewed at the Elizabeth Estates police stations where he told officers that two days before being caught with the drugs, a friend came to his house telling him that he could give him the hook up with "dope" from someone known as "American Boy."
The "hook-up," alias "American Boy," called him to let him know that he had the "stuff" ready and needed him to get the drugs and drop them off at a certain place.
Johnson did not have a ride so he called his girlfriend, Jandaiye Taylor, who happened to be riding along with Janesta Bell, and Simone Brennen. "American Boy" put some items in the back trunk and on the way to their destination, they were pulled over by police.
When questioned by Deputy Chief Magistrate Bethell, Johnson denied knowing that the packages contained drugs. He said that he was to drop off the packages to his friend.
After hearing his explanation and continual denial of knowing that it was marijuana he was transporting, the magistrate did not accept his guilty plea.
She told the four they would not be granted bail and would be remanded until their trial date.
Family of the accused looked terrified at this prospect. But it was the three women who became teary-eyed at the announcement.
The magistrate stood the matter down for 10 minutes to allow lawyer Tecoyo Bridgewater to consult with his client.
After the break, Johnson told the Magistrate that he did not initially understand her questions and admitted to knowing the packs contained marijuana.
Mr Bridgewater gave brief submissions on behalf of his client.
He said the employed father of a six-year-old daughter did not waste the court's time by prolonging the process. He also said that his client had had only one previous conviction for the same offence four years ago.
Mr Bridgewater asked the magistrate to take this and his daughter's future without her father into consideration and not give his client any more time than the mandatory minimum.
While she acknowledged his submissions, Deputy Chief Magistrate Bethell could not ignore the quantity of drugs that he had. She sentenced him to four years in prison and fined him $20,000. If he failed to pay, he would get an additional year.
She discharged the women after the prosecution withdrew the charges.