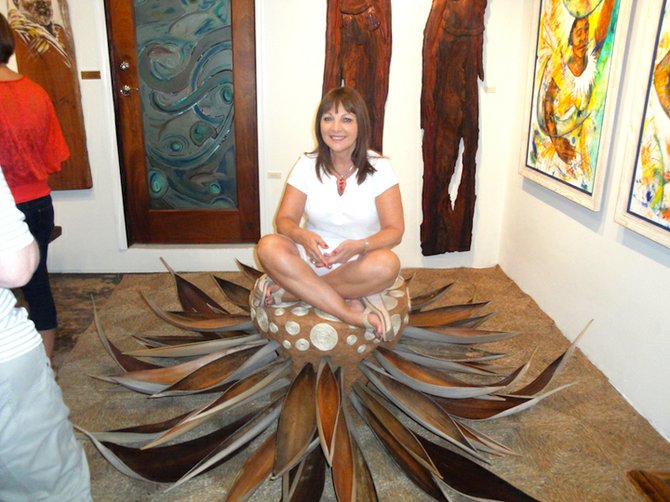 By ALESHA CADET
Tribune Features Reporter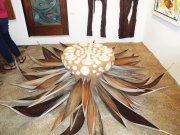 PRESENTING a diverse selection of mixed media pieces that included a life-size sunflower, an 8 by 8 paper box and a video installation, Bahamians showed that they can work in any and every art medium, during the recent Transforming Spaces art tour.
Taking on the theme of 'Fibre,' over 50 artists each brought their very own individuality and creativity to their art pieces.
Over the years, the tour has proven to be a great success, as artists and art lovers alike look forward to the yearly event.
Tribune Entertainment sat and spoke with a few of the talented participating artists to get the inside scoop on their contributions.
Standing next to her 8 by 8 mixed media piece "The Walls Are Closing In On Us" at the Pro Gallery, Veronica Dorsett said her aim was to create a captivating and sturdy environment using what could seemingly be called a fragile material, paper. She said she wanted to also create an environment where one must stop, clear their minds, and then feel.
Adding that this was her first time participating in the show, Veronica said it took her practically all semester to complete the piece. She built the whole structure from top to bottom entirely out of wood and paper.
"It was very difficult because installation took about five days. With my figures, you can't see any of their faces, and there are cut outs with missing objects. These things might tell you a little about who they are, but they are not there, so it's a play on, you want to know more about them, but you have to imagine," said Veronica.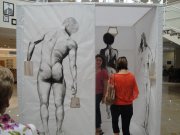 At Antonius Roberts' Studio and Gallery at Hillside House artist Claudette Dean, was actually sitting on top of her art piece. Smiling and explaining a few details about her sprawling, mixed media Bahamian Sunflower, she said it was all made with coconut fiber, queen palm fruit pods and coconut fruit pods.
"As every one knows, sunflowers follow the sun and so my idea was to create a meditation seat that you can sit on top of to meditate. The original idea was to do a lotus because I have recently painted a lot of lotus flowers," she said.
After gathering all of her materials, Claudette said her creation took approximately a month to complete. "It was a lot of physical work, but it was fun and it came together nicely. It's getting a nice reaction, so I'm very pleased with it," she said.
Adding a different look and feel to the art tour, artist Gio Sawby's installation at the Hub gallery, "React," was based on a video concept. She said the video installation focused on fibres found naturally on the human body, specifically the hair, skin and nails.
She said the videos on display depicted the involuntary reaction of the skin to a certain stimuli.
"Sometimes we think that we can sort of control how things affect us and we really can't. And the screens are set up like this to show that every person has a different perspective of each situation," said Gio.
In the video, some people caressed their body, showing show gentle reactions, while others scratched and slapped their skin, showing more aggressive movements.
"The nail biting is meant to show regret, like how we feel after we hurt someone. We mentally torture ourselves and this is meant to show like the physical mutilation," said Gio.