THE Department of Marine Resources has revealed that the two manatees removed from Nassau Harbour in October 2011 have been returned to the wild after being under the care of the marine mammal team at Atlantis on Paradise Island.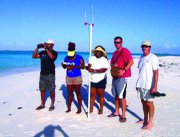 In November 2009, a manatee was sighted in Spanish Wells harbour, North Eleuthera.
Photographs of her distinctive scar patterns were provided to the US Geological Survey's Sirenia Project, where they were matched to "Rita", an adult female known to be residing in south Florida since 1988.
Shortly after arriving in Spanish Wells, marine mammal care staff from Atlantis' Dolphin Cay conducted several health assessments on Rita.
They determined through ultrasound that she was pregnant and advised locals to provide her with food and water to ensure she remained well-nourished throughout her pregnancy.
In June 2010, she gave birth to a female calf, who locals named Georgie.
Rita and Georgie became very popular with Spanish Wells residents - so much so that Rita's own Facebook page was launched and she now has more than 800 friends.
Rita and Georgie continued to frequent Spanish Wells until Hurricane Irene passed over in August 2011, when they disappeared.
The next sighting of the wayward pair was in Nassau Harbour that October.
Due to concern about potential vessel strikes, the Department of Marine Resources (DMR) authorised Dolphin Cay's marine mammal response team to capture the manatees so their health could be evaluated and maintained until a decision was made about their disposition.
On October 15, Rita and Georgie were captured and taken to Dolphin Cay.
During their time at Atlantis, the manatees have been given excellent care, have been closely monitored and underwent several examinations by veterinarians and other marine mammal experts, DMR officials said.
Local efforts to have the manatees returned to the wild have been spearheaded by the Bahamas Marine Mammal Research Organisation (BMMRO), a local non-governmental organisation based in Sandy Point, Abaco.
With the assistance of manatee researcher Jim Reid at the US Geological Survey (USGS), the BMMRO prepared a release plan suggesting the relocation of the two manatees to Great Harbour Cay in the Berry Islands, where a small group of manatees were already in residence, and the implementation of a programme of tracking and monitoring after release.
After consultation with Atlantis, the BMMRO, the USGS and the Save the Manatee Club of Florida, the DMR approved the release plan, which involved awareness building in the Great Harbour Cay community, transport of the manatees to Great Harbour Cay, attaching monitoring devices to the manatees, their release and subsequent monitoring.
In preparation for Rita and Georgie's release, BMMRO conducted research at Great Harbour Cay to learn more about the manatees that have been residing there for the past 13 years.
BMMRO's education officer Kendria Ferguson visited the local school to give seminars and worked to increase awareness about the manatee presence among boaters.
The two manatees have now been safely transported, released and are being monitored as they explore their anew surroundings.
The public can follow Rita and Georgie's progress as they adapt to their new home and new friends on http://bmmro.blogspot.com/ - BMMRO's manatee blog.
As part of BMMRO's outreach work, in collaboration with Loggerhead Productions and with funding from the Lyford Cay Foundation, a five-minute educational video on manatees in the Bahamas that will be released later this year.
The USGS has pioneered the use of satellite-monitored radio tags to track the movements and habits of manatees in Florida and internationally.
These tethered floating radio tags show precise locations and can be remotely monitored.
Over the past few decades, the number of manatee sightings in the Bahamas has increased.
The origin of some of these animals has been traced through a photo-identification database to Florida, where manatee populations are increasing in some areas.
One female manatee named "Gina" has been living in Great Harbour Cay since 1999.
Her history has been traced back to Florida, and she has reportedly produced three offspring.
Most of her children are reported to have remained in the area.
The expectation is that we will be seeing more mantees in the Bahamas in the future, the DMR said.