By FARAH
ON an average day neither the Prime Minister nor the Leader of the Opposition would ever be caught bopping heads to the music of dancehall artists Popcaan and Vybz Kartel.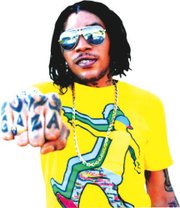 Not just because their age, generally speaking, places them at odds with the raucous genre, but because both Popcaan and Vybz Kartel are known for their run-ins with the law. In the case of Vybz Kartel, he is currently sitting behind bars in a Jamaican prison awaiting trial on murder charges.
Not exactly the image a Prime Minister would ordinarily want to associate with. So what scenario could possibly make it okay for politicians to associate with accused criminals? Elections of course.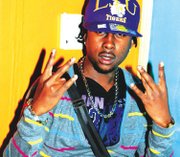 Singles from Popcaan and Vybz Kartel have become theme songs at political rallies for the Progressive Liberal Party (PLP) and the Free National Movement (FNM). Their music has our coat suit wearing, briefcase carrying, country leaders, throwing their hands up and shaking to the beat of the music.
"I am usually surprised to see some of them dancing and shaking to some of the songs that are played. I find it funny to see them bumping their heads to rap, or reggae music. I am sure they do not listen to these types of music on a regular basis," said registered voter Ricardo Darville.
The PLP remade the hit song "Only Man She Want" by dancehall artist Popcaan, changing the original lyrics, "Popcaan is the only man she want", to state, "PLP is the only ting we want".
At the end of the day, the musical gimmicks used by political parties are less about the musicians and more about the music. They are used to hype up the crowds at rallies and to appeal to young voters. The hit song from American rapper T-Pain, "All I Do Is Win", for example, is often played to hype the crowd up at FNM rallies.
"You have to be able to attract the young people. When young people go to rallies they do not want to hear ancient music. They want to hear songs that are live and current. That is the only way you can attract the young people or have a decent turn out," said Tatiana Miller, a PLP supporter.
Political parties have also commissioned original songs and slogans from Bahamian artists, like the FNM's We Deliver (FNM), and the PLP's Gold Rush, which are considered the "national anthems" for both parties.
The PLP remade a popular chant used by Junkanoo groups to produce a PLP chant, "Oh they scared, they scared, the PLP coming". ) "Who Ya Voting For". The FNM have used Tina Turner's original, "Simply the Best", while the PLP remixed to song as a dig on the FNM, who they say are "Simply a Mess".
Not only are secular songs are being used, but also gospel songs, such as "Nobody Greater" and "Praise The Lord", which have been remade for the FNM.
"I was not particularly happy that those gospel songs were remade for politics. It just did not sit well with me. But I guess just as they were trying to appeal to young people, they also tried to appeal to the Christian folks too," said registered voter Stacy Anderson.
A part from music, both the FNM and the PLP have coined special phrases that are played during the events. For entertainment phrases like "Das My Papa", "Are You Serious" or Vybz Kartel's catchy phrase "OH" rings loud at the FNM rallies. Similarly phrases like "I see dead people", "They wants us vote for them" are often heard at PLP gatherings.
The "I see dead people" phrase was introduced after FNM supporters were watching a PLP event and claimed they saw their relatives who had died years ago at the rallies. They said the PLP was using crowd footage from several years back and possibly holograms.
Though humorous, and entertaining, one Bahamian said to these phrases have a special function.
"You have to admit those phrases are funny. They also help us identify with the candidates or the party. For instance I could not be looking at the television but the moment I hear "Das my papa" I automatically know that the FNM rally is on," said Michelle Darling, a voter.