By ALESHA CADET
Tribune Features Reporter
BEFORE his life was cut short at the agree of 20, Akio "Ninja" Francis had dreams and aspirations of one day owning his very own clothing boutique for women.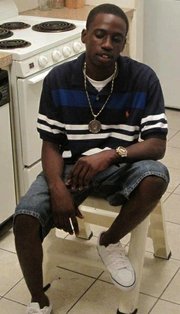 He was one of four people shot after an altercation outside the Luna Night Club on West Bay Street, last month. He died at the scene.
Supt Paul Rolle, head of the homicide division, said Akio was "well known to police", however they do not believe the killing was retaliation, but rather the result of an argument outside the club.
His sister, Antonia Horton shared with Tribune Religion, her memories of her one and only brother. She said she remembers him as a shoulder to lean on and a "go-getter" who never depended on anyone.
"My brother went all out for his family all the time. Like with my Grammy, he would always help her pay her bills. He never liked to wait on people to do things for him. He was strong minded and was not easily influenced," said Antonia
Speaking about the protective shield he had for her and her three sisters, she said Akio did his best to help however he could and whenever he could, even at the age of 20.
She said Akio was very close with her grandmother, who still wishes up to this say that he had the chance to have children of his own. She said her grand mother said she just wanted something to hold on to and remember him by.
Still fresh in her mind, Antonia said she remembers April 1 as clear as day. That night she got the horrific call that her brother was hit by a bullet and was badly wounded.
"We all was very shocked. Especially how it was April Fool's Day; we thought it was a big joke. He was always a joker and we thought it was one of his many jokes. We did not believe it, but when we went to the hospital and saw his body, that is when we knew," said Antonia.
She said just hours before his death, Akio and a few friends went out to dinner, enjoying the night as he always did.
"He was always on the move. That was my brother. It was hard to catch up with him sometimes. Sometimes I felt like I needed an appointment to see him, but I still loved him regardless," she said.
After his death, Antonia said there were people that made him out to be a, "monster", she said. "I can't believe that because he helped people and he never once went to jail."
As the days go by, memories still linger. Antonia recalled a trip she took with her brother last year to Andros Crab Fest. The time she spent was very memorable, she said.
One of his major goals was to own a women's boutique. "He wanted to open the store and have his girlfriend run it. He said ladies love to look good so he wanted to cater to them through his store," she said.
Akio's mother, Ginette Horton, said she noticed a positive change in her son shortly before her was taken away.
"It was after he met his girlfriend, Charlese Laroda. They got an apartment together and she made a difference in his life because he started to talk about going to church. It was just something about her. He started to spend a lot of time with us. Even his choice of words was different. You could've seen where his life was headed, so bright," said Ms Horton.
She was off the island when family members called about the shooting. Ms Horton said she cried and prayed, asking that he make it through.
"I was just so weak and I didn't believe it; I just couldn't believe it. I told my daughter to go to the hospital and when I came back, I found out that it was really so, he was gone," said Ms Horton.
Akio was her only son. Her grief has kept her away from work to this day.
"I remember when he first got a gold tooth, it was like it gave him so much confidence. He had so much dreams but at the age of 20, his life was taken away," said Ms Horton.
"This is why you have to give people flowers while they are alive. Many people think it is just about money, but a simple call would mean a lot to someone, showing them appreciation," she said.