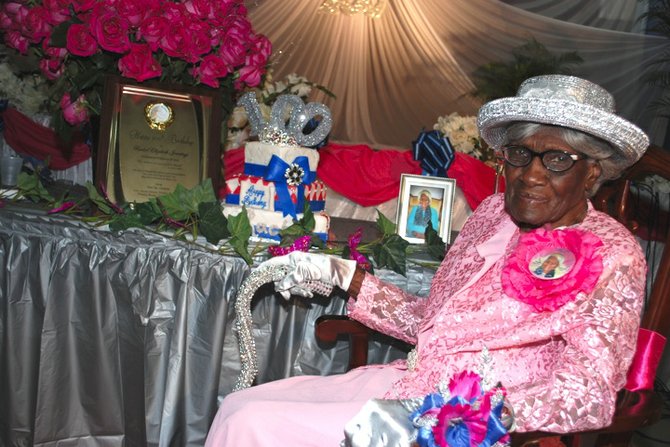 By ALESHA CADET
Tribune Features Reporter
THREE generations of mothers agree that strength is the most important quality of motherhood. Through personal and moral strength, these mothers continue to instill their family values and beliefs from one generation to the next.
The chain begins with the 100 year old Rachel Elizabeth "Mama Dee Dee" Jennings, who still strives to teach her 10 children about old-fashion family values, kindness, love and respect. Even though some people believe she has favourites, Mama Dee Dee said she has none. She loves all of her children the same.
When she migrated to Nassau from the Turks and Caicos Islands, she did her best to be there for her children, but she also ministered and cared for others in the community.
At age 17 she married Edgar "Smiles" Jennings. Together they raised ten children: Sally, Edgar, Muriel, Marion, Winston, Ronald, Conrad, Dorothy, Eustace and Ruth. .
According to family members, Mama Dee Dee did not spare the rod or spoil her children. She believed in biblical principles.
"She taught her children to love God, respect people, especially their elders. They were also taught to love and care for one another. She made many sacrifices so that her children would have a comfortable life while her husband was out sailing on cargo ships to many countries," said family members.
The burden was on her to provide and take care of the children, but she did whatever it took, which meant getting up early in the morning to go fishing while the children were still asleep.
The apple does not fall far from the tree when it comes to Mama Dee Dee's offspring. Her daughter, 75 year old Marion Jennings told Tribune Woman that she learned how to be a mother through Mama Dee Dee's example.
She raised four children: Colfred Been, Keshia Tinker, Llewelyn Forbes and Allan Forbes (Deceased), on her own.
"It was rough raising them because I was the mother and the father. But with God, my mother and my brother, I pulled through. She taught us how to stick together and be there for each other, just like I am always there for my daughter, son and their kids," said Marion.
When speaking about the young generation of mothers in today's society, Marion said the values and morals are getting "weaker and weaker." She said her advice to them would be to teach their kids about the lord and manners.
"When I talked to or disciplined my kids back in the day, they listened, but now children are talking back to their parents, which is just wrong. Even though my grand kids make me talk all day, I love them regardless. It is a grandmother's love and I got that from my mother," said Marion.
Keshia Tinker, Marion's 36 year old daughter said it was easy for her to call on her mother and grandmother when it came to her raising her two kids, Kevin and Keshla.
She believes it is easier to raise children when a person has a good connection with their mother and grandmother to help.
"My mother worked to make sure we had education and I am doing the same for my children. She also taught me that what you don't have, you have to learn to do without. Sometimes with my children, they tell me I sound just like my mother. They say, 'you sound just like grammy', in cases when I argue with them. She's always telling them to behave and so do I," said Ms Tinker.
What she admires most about her mother is the lesson to show love and kindness at all times.
"When you do that, you can see it coming back to you in so many ways, and I see it coming back to me through my kids. The other day my daughter went outside the house and pulled out some grass for flowers and she said to me, 'Mommy this is pretty, this is for you,' and that was beautiful," said Ms Tinker.