By JEFFARAH GIBSON
Tribune Features Writer
THE arts and culture community plan the hold the Progressive Liberal Party (PLP) to its promises, now that a landslide victory in the general election has heralded them into power.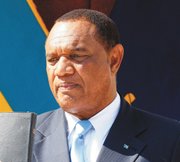 In the Charter for Governance the PLP stated it would introduce several initiatives to create more opportunities for arts and culture in the Bahamas.
An Arts Council for funding art and cultural events is promised by the governing party. One of the mandates of this council will be to locate local and international venues, to display authentic Bahamian arts and crafts. The council will also be in charge of building, promoting, and maintaining a website to showcase and sell approved Bahamian art, such as straw work, woodcraft, music and painting.
Several Bahamian artists said the first matter the PLP should address is implementing tax exemption on art supplies.
"I would love to see more art in public spaces and there also needs to be less art related to governmental projects being out-sourced to foreign companies. I would like to see more education about our culture and I would also like to see tax exemption for art supplies," said visual artist Kishan Munroe.
Last year Bahamian artists came together to sign an online petition to remove the tariff from all art supplies. The artists petitioned to have the 45 percent tax, which is charged to all art supplies including clay, paint, sketch pad and all other products, removed by the government.
"What I would like to see is a tax exemption on all supplies. It is difficult for artists to bring in their goods. Some of them do not have the means to do so and this is something that needs to be addressed by the government," said artist Trevor Tucker.
He also said there needs to be many more venues for local artists to display their work.
The PLP also pledged to help Bahamians earn a living off culture. They said they will ensure research studies are conducted on cultural events and help to create revenue generating opportunities and sustainable jobs in the arts. They promised to also lend support to an annual event that showcases Bahamian music and promote the culture of the Bahamas.
Ceramist Jessica Colebrooke said the art community has been under appreciated and she is looking for the government to support Bahamians much more.
"When this government was in power the last time, myself and several other artists approached it with the idea to create an artist hub or colony. There are so many artists in the Bahamas who work from private studios and galleries and this would be a space for any artist who want to come and work. Our idea was to also have school students bused to this hub to view the work of the artists. This became very hard to sell," she said.
"We need to stop having our artists hidden. Artists have been struggling in this country for so long. When we smother talented artists then there will be nothing much to sell," Ms Colebrooke said.
As a way to promote the Bahamian culture the PLP also stated that it would create a Junkanoo season over a twelve-day period ending with the New Year's Day Parade. This period will offer more organised opportunities to appreciate Junkanoo costumes, music, craftsmanship and performances. They also stated that this will offer more exposure to the Junkanoo experience overseas, including international television broadcasts of Junkanoo and public displays of award-winning costumes.
"I think this would be a good thing. Bahamians love Junkanoo and it is not satisfying when there are only two non-consecutive days out of the year for Bahamians to experience Junkanoo. I know we have the Junkanoo in June but the times are too spaced out. This is just how Carnival is done in other parts of the world," said Ronny Johnson, a participant of the Roots Junkanoo group.