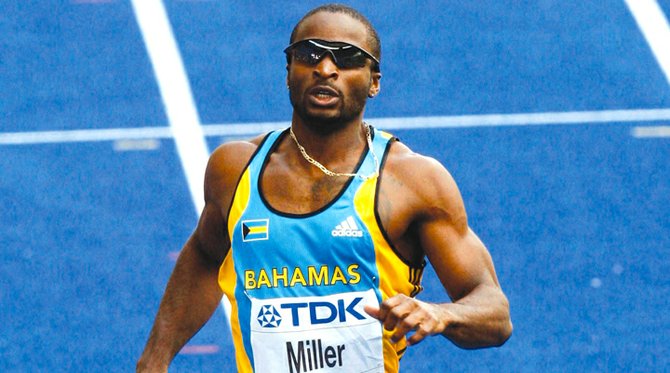 By BRENT STUBBS
Senior Sports Reporter
bstubbs@tribunemedia.net
With just about three months left before the 2012 Olympic Games in London, England, Bahamian athletes have stepped up their performances on the international scene.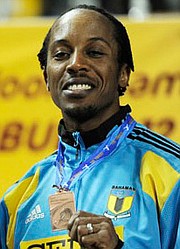 The latest performance came at the Cayman Invitational where quarter-milers Chris 'Fireman' Brown and Ramon Miller took the first two spots in the men's 400 meters.
Brown turned in a season's best of 45.14 for the victory while Miller took second in 45.48. Jamaican James Chambers finished third in 45.87. Third went to Jamaican Ricardo Chambers in 45.87.
It was Brown's debut in the event but his time was shy of the best effort by a Bahamian so far on the IAAF world-leading performance list - Michael Mathieu opened up with a time of 45.46 to win in Trinidad & Tobago on April 22.
Also at the meet in the Cayman Islands, in his comeback, Nyles Stuart picked up a fourth place with a leap of 7.46 metres or 24-feet, 5 3/4-inches.
American Will Clay beat out a field of Caribbean athletes with a leap of 7.97m (26-1 3/4). Jamaican Nafee Harris was second with 7.93m (26-0 1/4) and Cayman Islands' Carlos Morgan got third with 7.48m (24-6 1/2).
Michael Mathieu, on the other hand, won the men's 100 meters as he matched his personal best of 10.30 seconds at the Brazilian Athletics Tour in Fortaleza.
His time trailed the 10.28 that Shavez Hart clocked in Lubbock, Texas, on May 5 to lead Bahamians on the IAAF performance list. Mathieu ran the same time in Jacksonville, Florida, on March 30.
Only Sunday, Mathieu erased Dominic Demeritte's Bahamian national 200 record of 20.21 that he held since 2002. On the first leg of the Brazilian Tour in Belem, Mathieu posted the new time of 20.16.
Mathieu, who came close to booking a spot in the final of the half-lapper at the IAAF World Championships in Daegu, South Korea, as he trailed Jamaican Usain Bolt before he pulled up with a hip flexor injury, said his goal is to concentrate on the 200 this year.
With his latest feat in the 200, Mathieu surged to sixth, just ahead of fellow Grand Bahamian Demetrius Pinder, who ran 20.23 on April 14 in Coral Gables, Florida.
Today, Daegu world championship bronze medallist Trevor Barry and former world champion Donald Thomas are expected to carry the Bahamian flag in the men's high jump at the Samsung Diamond League Doha Grand Prix Meet. Barry and Thomas will compete in a field of 12 competitors.
Thomas has already posted the fourth best jump in the world of 2.27m (7-5 1/4) when he, along with triple jumper Leevan 'Superman' Sands, took victories in their specialties at the Jamaican Invitational in Kingston, Jamaica, on May 5.
Barry has the seventh best mark of 2.26m (7-5) that he did to win a meet in Fargo, North Dakota, on May 4.