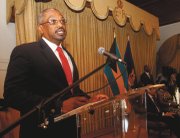 By ALESHA CADET
Tribune Features Reporter
OUTGOING Minister Of Health Hubert Minnis is confident the new government will carry on with plans for the public healthcare sector, which are in the best interest of the people.
Having secured a majority for the Progressive Liberal Party's (PLP) in the May 7 general election, Prime Minister Perry Christie appointed Dr Perry Gomez, Minister of Health.
The outgoing minister, who is now the leader of the opposition, said he believes the PLP will be sensible when it comes to the health needs of Bahamians.
"They may try to tweak things here or there to put their stamp to it, but other than that, any plans we had put in place would have been plans to ensure that the Bahamians got the best possible care today and preparing for tomorrow," said Dr Minnis.
Dr Minnis admitted that the Princess Margaret Hospital has never been without its challenges. The FMN government worked towards addressing issues such as long waiting lines at the emergency room and problems with beds.
"A lot of our beds were occupied by patients with chronic non-communicable diseases and hence the drug plan with the medications, as well as the preventative arm would have helped with that," he said.
Speaking about additional challenges, Dr Minnis said the Intensive Care Unit (ICU) at PMH would have been compromised because of the amount of violence in the country today. He said many victims of crime and violence required care in the ICU.
"We also would have faced a lot of problems with individuals having surgical procedures delayed because of inadequate surgical theater spaces. New young physicians coming home would have had problems getting their cases and utilizing their skills, again because of the limited theater spaces," said Dr Minnis.
Adding the new surgical or critical care block will address all of those problems, Dr Minnis said.
With the new theaters, he said more physicians will be able to utilise their surgical skills, thus cutting down on the waiting time for surgical procedures.
"Once we have expanded the theater and the neonatal intensive care unit in terms of the babies, we would now have a lot of available space within the existing hospital, which can now be renovated so that you would increase you bed compliment. You are moving from area to another and they would be moving into the new critical care block and therefore all of that available space can be renovated," said Dr Minnis.
All of these plans were put together in going forward, Dr Minnis said he does not see the new government changing them. "Like I say, all governments like to say they are doing this or that and like to put their stamp on things, so I would not be surprise if they tweak one or two things," he said.
He said the public health care sector still needs to address structural issues. He added that the government still needs to ensure doctors and nurses have a comfortable environment in which to work.
"We have done an excellent job in the health care sector and I would like to see the new government carry on the procedures, carry on what we have done and ensure that the Bahamian populace gets the best possible care," said Dr Minnis
Any new government can evaluate what has been done, but what is good you need to carry on, Dr Minnis said.
"We cannot go through this system of dismantling, building and rebuilding. Once we do that, our country never moves forward. It's a sea-saw up and down, with the bottom still remaining the same," he said.