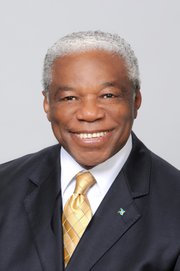 By KHRISNA VIRGIL
kvirgil@tribunemedia.net
MINISTER of National Security Dr Bernard Nottage yesterday said the fight against crime for the next five years will heavily depend on better co-operation among leading officials from national law enforcement agencies.
These agencies include the police and defence forces, customs and immigration departments and Her Majesty's Prison officers.
Speaking with the media following a closed discussion between those agency heads, Dr Nottage said the government realises a need for the country to maximise its efforts when it comes to the escalating crime situation which speaks loud and clear through the number of recorded murders.
For the year, the country has already added 53 murders to the books.
Dr Nottage said: "The level of crime is unacceptable in the country (and) we need to maximize our efforts (through) these organisations (which) act themselves. The police do their thing, the defence force does their thing, but we know that there is a lot of cross cutting that occurs."
Prime Minister Perry Christie has also appointed an official to organise and facilitate a constant exchange of information and intelligence gathering between the agency heads to encourage a combined approach to crime, Dr Nottage said.
"Crime is not only the local stuff that we are concerned about, (but) the murders, the attempted robberies, (and) the rapes. (We are concerned about) transitional activities (such as) transporting persons, the smuggling of firearms, (and) illicit customs operations."
"So we are hoping to look at the whole pie to see where agencies can assist each other to maximise the output because we are results oriented. The fight against crime largely has to be intelligence led."