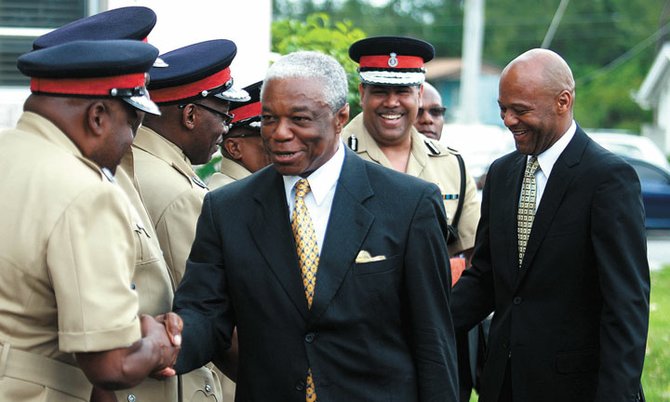 STATE Minister for National Security, Keith Bell, blamed the alarming crime rating of New Providence and Grand Bahama in a recent US report on the previous FNM government's decision to "stop, review, and cancel" crucial crime fighting initiatives during their term in office.
Amongst the top initiatives highlighted, which include the School policing, Urban Renewal, Mr Bell said that the Tourism Based Policing should never have been "interfered with by the FNM."
"Had we continued on with the Tourism Based Policing we would not have had all these problems. And that programme ought to have never been interfered with by the FNM – and that was a part of their stop, review, and cancel policy of the FNM. They did it with the School Based Policing, Urban Renewal, and they did it with the Tourism Based Policing. So we ought to not be surprised by what the end result is."
The US State Department's 2012 Crime and Safety report highlighting several incidents of violent crime involving tourists or tourist locations, noting that the dramatic increase in crime last year has adversely affected the travelling public.
Drafted to assist American travellers and businesses, the annual report addresses crime threats, road safety, medical emergencies, safety tips in countries that have established US embassies, and includes other relevant data affecting travellers such as political violence and environmental hazards.
New Providence's criminal threat level was listed at the maximum level of "critical" with Grand Bahama being pegged as "high", putting that island's crime problem on par with that of the Dominican Republic.
The report read: "The US Embassy has received reports of assaults, including sexual assaults, in diverse areas such as casinos, outside hotels, or on cruise ships. In several incidents, the victim had been reportedly drugged."
It added that while the upsurge in criminal activity has also led to incidents, which, while not directed at tourists, "could place innocent bystanders at risk."
With the PLP having only taken office on May 7, Mr Bell reminded the public that the report would have been commissioned under the previous FNM administration. With this in mind, he said that the PLP will be moving swiftly to implement its "Operation Safe Bahamas" crime-fighting plan, and build their crime fighting initiatives from the ground up.
"We will revitalize Tourism Based Policing because it is crucial that our tourists are not only safe, but they feel safe. We now have to build from ground zero. You will see it and we will ensure that that happens.
"You will actually see what we are going to do. It will be result-oriented. I have been charged by the Prime Minister to do this job and I will assist the Minister (Dr Bernard Nottage) in this work. On Friday we met with the Commissioner of Police and you will see right away that things will change. With my experience in law enforcement you will see a difference. The Bahamas can be assured of that. There are some issues, there is no question about it, there will have to be some restructuring and some review of existing policy, and the deployment of manpower.
"Because you are not only talking about creating a new set of policies, but also a mindset. We have a very strong Minister in the person of Dr Nottage and he is not going to allow the current state of affairs to continue. Not under his watch," Mr Bell warned.