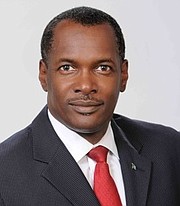 By KHRISNA VIRGIL
kvirgil@tribunemedia.net
FORMER education minister Desmond Bannister officially announced yesterday that he will be contesting the FNM's deputy leader position when the party holds its convention later this week.
The FNM will announce which candidates are to fill major posts including deputy leader, chairman, and treasurer when the convention convenes on Saturday.
Dr Hubert Minnis is expected to remain the party's newly elected leader as the FNM has stated that no one will run against him in that capacity.
Mr Bannister made the announcement to supporters and members of the media during a press conference at his home.
Speaking candidly of the FNM's General Election defeat on May 7, Mr Bannister said the party's loss was a message from the Bahamian people.
"The accomplishments of the Free National Movement are there for all to see. We have lived up to our commitments to our country. Nevertheless, our people have told us that they expected more from us. We respect their views." he said.
Mr Bannister's political career includes the Senate, chairman of the FNM, Minister of State for Legal Affairs, and Minister of Youth, Sports, and Culture.
He said as a servant to the Bahamian people, through the FNM, he is fully aware of the many issues impacting on citizens of this country.
"We sought to contribute to the positive resolution of these issues, and I thank the many educators, schoolchildren and Bahamians at large who have supported the initiatives that we implemented.
"I remain positive that we have both the potential and the ability to create the Bahamas that we all want for our children and grandchildren."
The battle over the post is now a three person race as Long Island MP elect Loretta Butler-Turner and unsuccessful electoral candidate Cassius Stuart have both announced that they would throw their hats into the ring for the party's second in command post.
Last week Mr Stuart said he was seeking guidance through prayer on which position he would best be suited for. He said: "I am praying now to find out exactly where I should be, but I don't see myself coming to the FNM to take a back seat. I know that I will have a role in the party."
The deputy leader post was left vacant last year when former foreign affairs minister and, at the time, deputy leader Brent Symonette said he would resign from frontline politics.
Former Prime Minister Hubert Ingraham who was successful in winning the North Andros seat, but not leader of the country for another term, formally said he would step down as party leader the day after the party lost the General Election by a landslide.