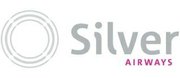 FORT Lauderdale-based Silver Airways announced yesterday that it had accepted delivery of two more Saab 340Bplus aircraft, its chief executive explaining that by year-end it will be able to increase flights on its Florida-Bahamas routes by 30 per cent.
The addition of the two Saab aircraft brings the carrier fleet's total Saab numbers to six. The Fort Lauderdale-based airline expects to integrate a total of 12 Saab 340Bplus aircraft into its fleet by September 2012.
Darrell Richardson, commenting on the fleet expansion, said: "By the end of the year, the 12 Saabs we're acquiring will enable us to increase flights in Florida and Bahamas routes by 30 per cent.
"At the same time, our seat capacity will grow by nearly 75 per cent, strengthening our leadership position in these markets."
Mr Richardson recently told Tribune Business that the airline was recording just over 70 per cent load factors on its Family Islands services.
Silver Airways' fifth Saab 340Bplus is named Team Victory in recognition of Victory Park Capital, the Chicago-based investment firm that owns Silver Airways.
The name of the sixth Saab 340Bplus, Momentum, references the positive strides being made by the Silver Airways management and staff in building a world-class airline. The two latest Saabs are expected to begin operating scheduled passenger services on June 1, 2012. Each Saab 340Bplus seats 34 passengers.
Silver Airways operates 100-plus daily scheduled flights to and from 29 gateways in Florida, the Bahamas, Montana, Ohio, New York, Pennsylvania and West Virginia. The company is owned by Victory Park Capital, a Chicago-based investment firm that initially launched the airline as Gulfstream International Airlines in May 2011, following the acquisition of select assets from the former Gulfstream International Airlines, which filed for Chapter 11 bankruptcy in November 2010.