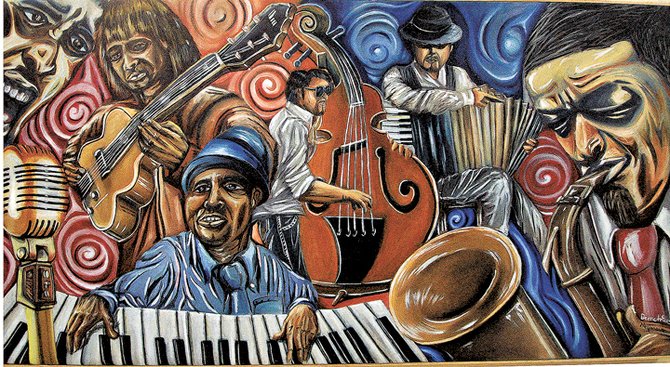 By ALESHA CADET
Tribune Features Reporter
THE BINDING cord is art, and we are using it to connect with the younger generation, said a veteran Bahamian artist while describing his mentoring experience in the "Nurturing Brotherhood" exhibit.
After months of working with gifted young male students for the Public Treasury Art Programme, senior artists are looking at the mentorship opportunity as a mutually rewarding experience.
Partnering with 16 year old Government High School Student Darren Knowles, Bahamian freelance artist Jace Mckinney said: "It was like taking a time capsule back in time and looking at myself."
Seeing his very own characteristics in Darren, Jace said he found his student to be a very focused individual and he believes they were both teaching each other.
"He was willing to collaborate and help with the ideas that I shared with him. We shared the same passion on the issue of violence in the country. We focused on things that would address the issue and also provide a sense of hope, and we created something of beauty that inspires positivity," said Jace.
The Nurturing Brotherhood exhibit was not Darren's first art show, but it was the first time he felt like "a professional artist". As art plays a huge role in his life, Darren said he refuses to let his God-given talent go to waste.
"It was not only a task, but an opportunity to work with a professional and perfect my skills, as well as learn new ones. Jace became almost like my big brother and it would be more than a pleasure to work with him again," said Jace
"I think (the project) is something that is very timely and sensitive to what is going on in the country. Nurturing Brotherhood is about making those connections. We are passing on our knowledge, through visual concepts and through ideas and collaboration," he said.
Darren's untitled exhibit piece was created in a style that has a childlike appeal, but on close examination, the images depict adult themes of violence and its impact. Darren drew from his own environment to depict experiences as seen through his youthful gaze.
"It says that things are not always okay, and we have to realize that. It is putting the issue for the people to see that even though we live in the sun, sand and sea, we still have these issues to deal with, and I think that is what it is all about," said Jace.
Darren said he got most of his ideas from spending days touring Nassau, observing the society.
Anthony Morley, an art veteran of over 35 years, added that when he was approached to take part in the programme, he stepped in, because he feels senior artists, designers and photographers should not take their talent to the grave.
"Now is as good a time as ever to begin passing it on. With my student, I gave him little tips here and there, but really that talent was already in him. I couldn't say I taught him very much, but instead, I showed him how to perfect it a little," said Mr Morley.
Mr Morley encouraged all local artists to mentor one or two young art students, whenever the opportunity presents itself.
"You don't have to be a part of a programme, but don't take your art with you. Mentor them in art and in life. I think that if they mentor one or two students a year, than it would make the Bahamas a better place," he said.