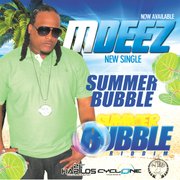 By FARAH
BAHAMIAN artist Mdeez is already getting into the spirit of summer with his new single "Summer Bubble".
The dancehall flavoured song was released last week and captures the fun spirit party goers are accustomed to during the summer months.
"This song is special to me because I have not done dancehall in a while. It is also different for my fans as well. They get to see the party side to me."
"I just want people to have fun, as with all my music. I want them to enjoy my craft as I put hard work into each piece I put out," Mdeez told In Ya Ear.
Mdeez said he is putting the finishing touches on the video for Summer Bubble. He said its concept coincides perfectly with the vibe of the single. He anticipates the release by the end of June.
"The video for Summer Bubble is just a fun party video. I just recently got done shooting the video in Florida. I really hope my fans love it," he said.
Fans are already responding positively to the new hit. On Facebook, one fan posted: "I could still remember you rapping years ago. You were always talented, keep up the good work." Another fan said: "I am loving this."
It is likely that Summer Bubble will make the cut on his new album, though it not entirely completed.
"I have the album ready but I am just focusing on singles. Maybe later on this year I will release a disc with my most classic pieces."
Mdeez has a full schedule ahead. His focus for the remainder of the year is to release a number of hits.
"I am working on several collaborations with a few big names. I do not want to put everything out there just yet. I will also be working with a number of the local artists as well," he said.
Collaborations will also come in the form of ghost writing. This is a new venture Mdeez is excited to delve into.
"If you need a hit get at me. Just make sure your money right," Mdeez told In Ya Ear.
Fans can expect lots of activity from the artist in the upcoming months.
"They can expect me to continue put out great music and continue to take the Bahamas to the world. I just want them to know when they hear the name Mdeez they can be sure that I will represent them well. They will feel proud to say that I am a Bahamian," he said.