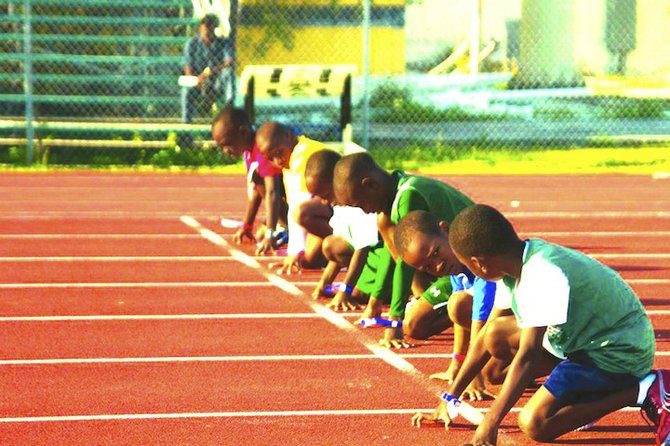 By RENALDO DORSETT
Sports Reporter
rdorsett@tribunemedia.net
A relative newcomer to the athletics scene in the Bahamas, the Saints Athletics Club seeks to reach a wider demographic of young athletes looking to train at a high level.
Head coach Jason Cartwright has led the club for just over two years now and has placed an emphasis on targeting athletes in underprivileged youth in urban areas.
"The Saints Athletics is a group of coaches whose mission is to promote high quality athletes who can become leaders within our societies and to make them self aware of things happening in their community so that they can make a difference.
"Through our programme, athletes not only augment their knowledge and skills on the track, but they also address the physical and social needs of their communities while promoting international understanding and peace through a framework of friendship and service," he said.
"Our organisation believes that no one is better than the next and feels that each child in our country should be given the opportunity to compete in track and field if they desire. Hence, our main focus is targeted towards kids in urban areas. Many of them have the full potential to be great athletes but lack the proper clothing and footwear as well as fees to pay these track clubs. Saints Athletics has taken it upon itself to bring these kids to our club and help them to be greater at what makes them happy and that is a chance to compete with other athletes from the private sector."
The club now has 29 active members from various urban areas such as Bain Town, East Street, South Beach, Chippingham and other areas of New Providence.
According to Cartwright, the club has about 42 members. However, due to transportation constraints for the clubs members, the numbers fluctuate from time to time.
Cartwright has been coaching on the school level since 2005 and became a beneficiary of the various coaching clinics hosted by the BAAA and the IAAF.
"All of our coaches are IAAF certified and believe in our motto, "Success through Perseverance. One of our other main factors is not only to help the kids on the field but also off as well. This is why we make sure that our kids maintain a 2.5 grade point average. To ensure this, we have study sessions on Saturday mornings before practice commences to help assist the kids in areas where they are weak."
The club is open to kids between the ages of eight and 14, and has a focus on a young group targeted by the IAAF and its Kids Athletics programme. According to its website, the "IAAF KIDS' ATHLETICS" programme is intended to bring excitement into playing athletics.
Innovative
New events and innovative organisation will enable children to discover basic activities: sprinting, endurance running, jumping, throwing in just about any place (stadium, playground, gymnasium, any available sport area, etc).
The athletics games will provide children with the opportunity to make the most of the beneficial practice of athletics in terms of health, education and self-fulfillment.
"I am very proud of where we have come from to where I am now as an organisation but could not have done it without the help of BAAA president Mike Sands, Ann and Linda Thompson and many others for their continued support as we continue to progress. It is hard having to support kids without assistance but we just recently received grants from the previous government which was able to help us in getting equipment and other necessities to take our club to the next level," Cartwright said.
"Many times I wanted to give up but due to strong advice from my grandmother (Katrina Cartwright) and the constant talk of failure is not an option, we kept pushing through. I just hope that we could have more persons step up and assist us in getting a bus so that we can further help our kids to get to the next level by means of equipment and transportation for practice and meet purposes."