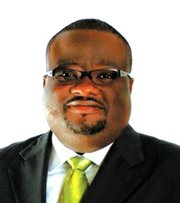 By NATARIO McKENZIE
Tribune Business Reporter
nmckenzie@tribunemedia.net
THE government needs to demonstrate the political will to take control of its sovereign airspace, a leading airline executive telling Tribune Business: "It belongs to us and we're not getting any money for it."
Sky Bahamas chief executive, Captain Randy Butler, said his airline was billed around $100,000 annually for local airspace use - money that instead of going to the Bahamas, went to the Federal Aviation Administration (FAA), which controls overflight rights for this nation above a certain altitude.
Captain Butler said: "Those fees have nothing to do with NAD. We don't pay NAD that at all; those fees go directly to the US government for the airspace use. The fees with NAD are a whole different kettle of fish."
The Government announced during the Speech from the Throne last week that "steps will be taken to address the management of the Bahamas Flight Information Region (FIR), which will permit access to overflight fees on the Bahamas' upper airspace". It recommitted to a pledge the former Christie administration made during its 2002-2007 tenure.
"The government needs to start the negotiations, notify ICAO [International Civil Aviation Organisation (ICAO) as they did before, and let them know that we would like to start the process to take over our air space. This is a very necessary step. There is a lot of money in this and a lot of opportunities for employment. What we will be able to do is have those who use our air space pay us," Captain Butler added/
"We pay NAD about $100,000 a month in other fees for operating here. We pay Civil Aviation a whole bunch of money for other fees associated with operating in the Family Islands, licensing and all of that. At the end of the day, when we would have paid National Insurance, tax on fuel, NAD and all of these government agencies, we would be at about $1 million a year in fees and taxes."
A 2004 paper on the creation of the Bahamas Flight Information Region (FIR) noted that the Bahamas Civil Aviation Department had proposed to install a new Nassau Area Control Centre (NACC) and associated air navigation systems in the Bahamas to permit the CAD to retake control of its airspace, in a fully coordinated manner with neighbouring countries.
It was expected that implementation of the FIR would take two to three years, once it was approved by ICAO. The Federal Aviation Administration (FAA) exercises control over most of the Bahamian airspace designated as the Miami Oceanic (East), with the airspace over Andros Island presently under the control of Cuba.
According to the 2004 working paper, the new FIR could create significant employment opportunities and generate revenues in excess of $30 million annually. It was also stated that the revenue stream was expected to not only finance the capital costs of implementing the project and pay for the yearly operations and maintenance budget of Civil Aviation, but also contribute to financing the development of Family Island aerodromes.