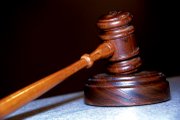 A MAN was acquitted of burglary, armed robbery and causing grievous harm yesterday after a judge directed the jury to find him not guilty.
Teko Burrows was unanimously acquitted of the three charges after Acting Justice Wayne Munroe gave his direction.
Burrows was alleged to have broken into the home of Patricia Minus-Swaby on June 22, 2010 and attacked her in her sleep which left her with injuries. Burrows had denied the charges throughout the trial.
On Monday, after the prosecution closed its case against Burrows, his attorney Alexander Dorsett made a no-case submission in the absence of the jury.