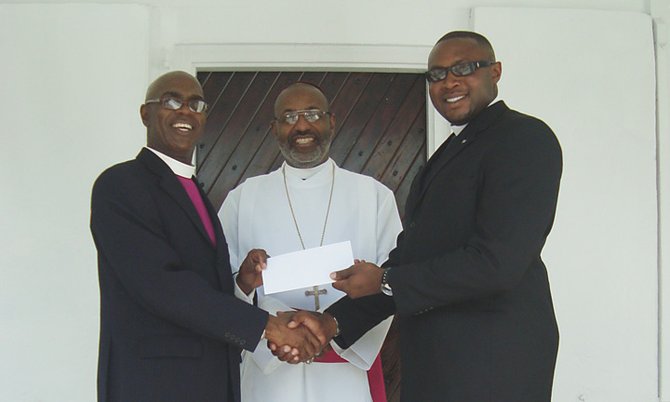 When The Venerable James Palacious celebrated his 60th birthday earlier this year, and launched his first CD "Songs to Soothe the Soul", he promised to donate a minimum of $35,000 from its proceeds for the restoration of his home parish, St. Philip's Anglican Church in Matthew Town, Inagua. Recently he made good on that promise, donating over $32,000 from sales and gifts to date.
The 160 year-old St. Philip's Anglican Church was damaged by Hurricane Ike in 2008, with the roof being completely destroyed and collapsing. This affected the entire building including the electrical infrastructure, the walls and floors. Instead of only repairing the roof, with the approval of the Bishop-in-Council, the Vestry decided on a complete restoration of the church, along with other hurricane related damages to the community centre and rectory, at a cost of over $500,000. To date well over $300,000 has been raised.
According to the Reverend Tellison Glover, Rector of St. Philip's, since 2008 the church has been engaged in an intense fundraising drive and this significant donation from Archdeacon Palacious will bring the project nearer to its projected completion date of spring 2013.
"Archdeacon Palacious has already raised some $10,000.00 for the church, and now he is adding this additional amount of $32,000.00 from the sales of his recent CD, and we are most thankful to him", said Father Glover.
 "I see my talent as God given, and therefore it should be used not only for me but for His honour and glory, and of course to help others. I am just paying off some of my debt that I owe to society and to the people, in particular the parish of St. Philip in Inagua," said Archdeacon.
 Father Glover said that work on the church started in 2010, and that the majority of the materials have been purchased. He said that the tiling, furnishings, lighting fixtures and audio equipment are needed for the project's completion.
"Our success has been in large part due to the generosity of our parishioners, persons like Archdeacon Palacious who are descendents of Inagua, other Parishes, and our Diocese. We thank all those who have contributed and we invite others who would like to participate in this project to contact me or the Diocesan office", said Father Glover.
Archdeacon Palacious' fundraising efforts continue with the ongoing sale of his CD, priced at $10. It features religious greats including 'Great is Thy Faithfulness' 'I Come to the Garden Alone' and 'Joyful, Joyful We Adore Thee', and was produced by Fred Ferguson and Darrell Houston. Copies may be purchased at the Diocesan Office, Sands Road.