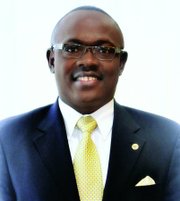 By NEIL HARTNELL
Tribune Business Editor
nhartnell@tribunemedia.net
An upcoming January 2013 trade mission to Panama could serve as "a tremendous catalyst" for Freeport's ambitions to become a logistics/distribution hub, a private sector leader yesterday saying representatives from 40-50 firms were likely to travel to Central America.
Confirming that the week beginning January 27 had been set for the mission, Chester Cooper, the Bahamas Chamber of Commerce and Employers Confederation's (BCCEC) chairman, said there were many similarities between Freeport and the Panama Canal/Colon Free Trade Zone.
Suggesting that those developments could serve as "a model" for Freeport's growth and development, Mr Cooper said Grand Bahama Port Authority (GBPA) representatives had already committed to going on the Panama trade mission.
"I find that quite interesting," he told this newspaper, "because the opportunity for Grand Bahama, similar to the Colon Free Zone, could be tremendous.
"Grand Bahama already has the infrastructure in terms of a deep water harbour, is fairly well-positioned in terms of being a hub for transhipment, break bulk shipping."
Mr Cooper said companies were already manufacturing and assembling goods in Freeport, exploiting its duty-free and tax incentives to "ship out to the Caribbean in smaller portions where container loads will not be needed".
Referring to the Colon Free Zone and Panama Canal, the BCCEC chairman added: "This is the kind of model that can benefit Freeport, looking more closely at the Panama model, and hopefully this will be a catalyst to drive that aspect of the business for Freeport itself."
Explaining that the mission was open to non-BCCEC members as well, Mr Cooper told Tribune Business it aimed to build on the success of the previous Panama visit in 2008, which acted as the launching pad for attracting Copa Airlines to begin airlift to the Bahamas.
"This is a follow-up mission to the one we did a few years ago," the BCCEC chairman added.
"What we are trying to do is not just go to the various cities, have a great time and meet people, but follow up some of the initiatives started in the first mission.
"It was the initial mission that essentially resulted in Copa coming to the Bahamas. The Ministry of Tourism was there, met them. That was one of the very tangible initiatives that materialised, and we take some credit for that along with the Ministry of Tourism."
For its part, the BCCEC is aiming to establish a "stronger structured relationship" between itself and its Panama Chamber counterpart. This would provide the Bahamas with an early alert when opportunities in Panama arose.
Mr Cooper said other focuses on the January trade mission would be "networking" and "business to business" opportunities for members of the Bahamian private sector, giving them "ample time for one-on-one meetings" with like-minded Panamanian counterparts.
The BCCEC was already asking interested Bahamian businesses to submit profiles of their firms, so it could match them to appropriate Panamanian firms, in the hope that joint ventures and other linkages materialise.
"We're hoping to find some opportunities for joint ventures," Mr Cooper told Tribune Business. "There is a hardware company who were able to add some product lines as a result of their visit to the Colon Free Zone last time.
"We want to create opportunities for businesses, our members, to enhance their businesses by finding new partners, sources for their products and services, and believe that might come through the Colon Free Zone. We want to get dialogue going between Panamanian and Bahamian businesses.
"We have some interest in retail/wholesale, interest in medical space, looking at the potential of using medical facilities in Panama."
While new product lines and supply chains for sourcing goods from/through Panama might present themselves, Mr Cooper said the trade mission might also open up export possibilities for Bahamian manufacturing and service providers.
"These are not one-sided missions. We are hoping to see opportunities in Panama where Bahamian businesses can set up networks, joint venture opportunities," the BCCEC chairman told Tribune Business.
"We see a lot of spin-offs and great new business opportunities through enhancing the business linkages between our countries.
"We had broad interest expressed through the members. We're expecting this to be even larger than the Haiti mission. If I had to hazard a guess, there will be 40-50 persons going on this mission, but I can't be definitive on that.