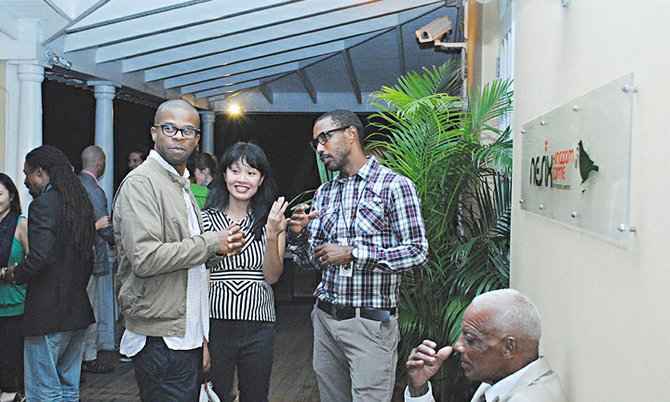 By ALESHA CADET
Tribune Features Reporter
acadet@tribunemedia.net
IDENTITY, transformation, spirituality, balance, justice and survival are some of the themes explored by the artists exhibiting the sixth national exhibition of the National Art Gallery of the Bahamas (NAGB).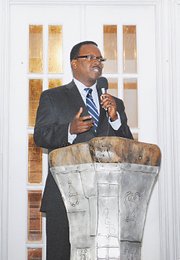 It opened last week and will remain in the gallery space until April 17, 2013. The 48 artists, selected by NAGB Chief Curator John Cox, had free reign to explore the "Kingdom Come" theme.
At the event, Ms Coulson explained the exhibition aimed to explore the challenges of transition in a modern context.
"What we wanted with the national exhibition is to make it about a moment in time. We were talking about chaos, out of which you would find a new way forward and we had discussions about transformation and the apocalypse. After the apocalypse is the kingdom, so we gave it that title Kingdom Come. We wanted it to be a hope for where the future would be," said Amanda Coulson, NAGB director.
In attendance at the opening were Minister of Youth Sports and Culture Daniel Johnson and Bahamian artist Stan Burnside, along with members of the NAGB team.
"A lot of it is about going through a metamorphosis or struggling through a time of change. Sue Katz piece is all about the different identities of a woman: going through life as a sister, a mother and a wife. How you become reborn out of that, so some people took it very personally and I was just blown away," said Ms Coulson.
In her floor to ceiling feather installation, Dede Brown explores the recurrence of "dramatic realignments" and "rebirths" and questions the expectation of a "perfect equilibrium". Kendal Hanna and Toby Lunn both investigate the abyss of the universe through an emotionally expressive gesture that speaks to the potentiality of the unknown. Tyrone Ferguson created a physical metaphor with a sculpture. The viewer is led along a tightrope without an established destination, noted Ms Coulson.
"We saw that people really thought big. I think that is also the role of a national gallery; that artists should not have to worry here about a sale. A lot of our artists are stuck in the saying, what's it going to sell. And that limits their imagination and their creativity. Of course they need to survive and the largest market right now is not so many Bahamians buying contemporary art; it is more of the people that are visiting. They constrain themselves so we said listen just be free; do the biggest most epic thing that is inside you and unleash it and they really surprised us," said Ms Coulson.