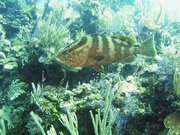 ENVIRONMENTAL activists yesterday thanked the government for upholding the three-?month protection of the Nassau grouper.
Minister of Agriculture and Fisheries V Alfred Gray announced on Wednesday that Cabinet decided to maintain the established length of the ban, following requests from fishermen that it be shortened by a month.
Bahamas National Trust president Neil McKinney said: "The BNT applauds Minister Gray and the Cabinet for this significant conservation action. This is a clear signal from our government that they are committed to the protection of vulnerable marine resources."
Casuarina McKinney-?Lambert, executive director of the Bahamas Reef Environment Educational Foundation (BREEF), said: "This action by the Cabinet will help ensure that the Bahamas continues to be a stronghold for the Nassau grouper. The closed season is critical to ensuring that future generations of Bahamians can enjoy this important fish."
The BNT and BREEF also acknowledged the "huge support" of other environmental organisations including TNC and Friends of the Environment.
They also expressed appreciation for the public's support on the issue.
Eric Carey, executive director of the BNT, said: "Thanks to all who signed our online petition for a fixed annual closed season. It is our considered view that the Bahamas should implement a permanent legislated closed season to ensure that grouper is protected throughout its reproductive period."
In announcing Cabinet's decision, Mr Gray said the government would consider giving small grants to fishermen who can prove they suffered significant losses as a result of Hurricane Sandy.