By BRENT STUBBS
Senior Sports Reporter
bstubbs@tribunemedia.net
JUST one Bahamian survived in singles action on day two of the Goombay Splash Bowl ITF Junior Circuit Tournament at the National Tennis Center.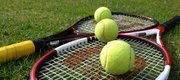 But in doubles competition, the Bahamian teams split their participation as the action starts to heat up in the week-long competition.
Bahamas Lawn Tennis Association (BLTA) president Derron Donaldson said the tourney is going great and he thanked tournament director Bradley Bain and ITF referee Mickey Williams for the manner in which they have performed.
"We are running along and our Bahamian kids are doing quite well," Donaldson said. "I expect great things from our players even though we still had some players who went to the Eddie Herr Tournament in Florida this week. With so many of the top players from the other countries going to Eddie Herr, this should make it that much easier for our players to get though the rounds.
"But even though a lot of the top players are playing Eddie Herr, we still have some stiff competition here and so our players will have to play their best in order for them to advance through the rounds."
Shaquille Taylor, who advanced out of the qualifying rounds over the weekend, won his first round match in the boys 18s singles with a come-from-behind 6-7 (5), 6-1, 6-0 win over Manuel Castellanos.
Justin Higgs, however, got eliminated after he lost 6-3, 6-0 to No.7 seed Gerardo Cardenas of Mexico.
The two Bahamian players in action in the girls 18s singles were also ousted. Erin Strachan was beaten 6-1, 6-1 by No.4 seed Ines Vias from the United States and American Adi Milstein disposed of Dominique Mortier 6-0, 6-0.
In the only other girls' singles match, American Elio Livi won 6-4, 6-0 over Canadian Sid Donarski.
The two boys doubles teams and one of the two girls doubles teams representing the Bahamas were victorious in their opening matches.
Kevin and Philip Major Jr, who both won their opening singles matches on Monday, had to dig down deep for their 4-6, 6-2, 10-8 win over Canadian Philippe Corteau and Bahamian Shaquille Taylor, while Rasheed Carey and Treajh Ferguson, who split their singles matches on Monday, teamed up to win their doubles 6-1, 6-3 over Americans Jonathan Prince and Marc Yurgnson.
Justin Higgs of the Bahamas teamed up with Yannik James of Grenada. The No.4 seeds pulled off a marathon 7-6 (4), 6-7 (3), 10-8 win over Jody Maginley of Antigua and Laurent Mailloux from Canada.
The No.2 seeded team of Juan Alamnis and Gerado Cardenas from Mexico had an easy time against Americans Robert and Romano Livi, winning 6-1, 6-1, but No.3 seeds Klan McClean and Josh Silverstein from the United States were upset by the team of Manuel Castellanos and Sinan Orhon 3-6, 6-2, 13-11.
In the girls' doubles, the No.4 seed of Bahamians Erin Strachan and Danielle Thompson made short work of Trinidad & Tabago's Juliet Campbell and Dominique Coutin 6-0, 6-0.
Also, Americans Nicole Coopersmith and Taylor Shukow won 6-4, 6-1 over Natasha Esschedal and Mikeala Pierce, Kaile Finies and Polina Kiseleva from the USA won 3-6, 6-3, 11-9 over Mexicans Ana Coquis and Paloma Martinez, while American Adi Milstein and Mexican Cassandra Vazquez beat Americans Tiffany Huber and Zoe Spence.
The players are expected to play their second round singles matches, starting 8am today.
Top seed Jose Gil is making his third appearance at the tournament and he's hoping that it's the charm that will earn him the title.
"This is a really good tournament, the country is pretty. It's very nice here," he said. "I won both singles and doubles, so I hope that I can continue winning. The doubles was a pretty good match, but we won. I hope that as the No.1 seed, I can win the singles. I feel like I'm playing pretty good."
No.2 seed Robert Livi, who won his first round match 7-6 (2), 6-4 over Dietrich Dernowsi, said that after he and Romano Livi got eliminated from doubles, he's hoping to make it up in singles.
"I'm just trying to play my game and win some matches. I think I can do very good in this tournament," he said. "The competition is good. The players are really fighting hard, so you have to play well. We didn't play that well in doubles and we lost."