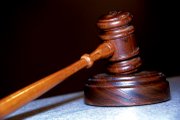 TWO men who deny being involved in the 2008 armed robbery and attempted murder of an American police officer vacationing in the Bahamas will have to wait eight weeks before the Court of Appeal hears their application.
Ebenezer Sherman, 22, and Bradley Saunders, 25, appeared in the Appeal Court yesterday hoping to have their convictions for the shooting and attempted robbery of John Casper Jr overturned. However, the matter did not proceed as lawyers were not prepared.
The court was adjourned to November 28 at 10am.
Sherman and Saunders stood trial in September 2010. It was claimed that on May 14, 2008 they attempted to murder New Jersey police officer John Casper in the Cable Beach area. It was further claimed the pair tried to rob Joan Algios during the incident.
Casper was shot in the chest when he tried to stop the attempted armed robbery on Ruby Avenue, near the home of Prime Minister Perry Christie.
Sherman was convicted of attempted murder and sentenced to 25 years at Her Majesty's Prison.
Both Sherman and Saunders were convicted on the attempted armed robbery charge.