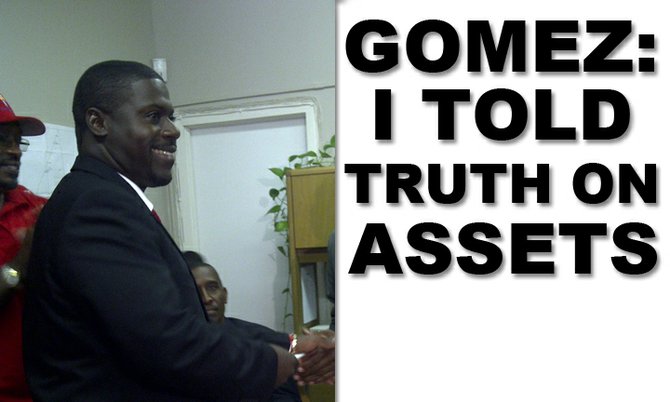 By PAUL G TURNQUEST
Chief Reporter
pturnquest@tribunemedia.net
FNM candidate for North Abaco Greg Gomez has denied charges that he has incorrectly filed his asset declarations on nomination day, stressing that all the information entered was done after consultation with the party's lawyer and certified public accountant (CPA).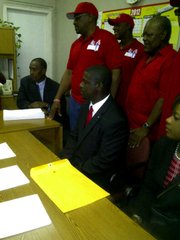 With no National Insurance contributions logged for 2011, Mr Gomez said that his declared income of $28,000 came in the form of "love offerings" from
travelling and preaching at various churches.
"I, in filling out my declaration sought counsel from the FNM's lawyer and the FNM's CPA. Now, on there we were discussing I am an educator right, yes, but I am a minister, and I said 'yes'. They asked me if I am ministering at this time, I said 'no I am not ministering at this time because I am in full time campaign'.  So he said, 'yes, just put it as an educator' and that is what I did based on the legal advice that I received.
"Because I am not currently operating, all I am doing now is campaigning and that is what I am doing. But what I did explain to the lawyer was that I am an educator and a minister. But at this current time I am not ministering full-time because I am on the campaign trail full-time," Mr Gomez said.
If Mr Gomez is found to have intentionally or unintentionally misled the Parliamentary Commissioner in the declaration of his assets he could be subject to having his nomination voided, sources in that department have revealed.
As for 2012, the FNM's candidate could not answer as to what his income was.
"Well earlier in the year I worked a part-time job with my brother-in-law for several weeks as long as the job lasted. Then I worked at the Administrators Office, and earlier in the year I was preaching. I was travelling and preaching. So that was my income. Now, my income is different from most people's income. Because as a minister when I go to minister I get something which is called a 'love offering' and that varies and changes. So, everything is in estimation and that is exactly what I did, and as per the advice that I received from the FNM's lawyer and CPA."
Deputy Prime Minister Philip "Brave" Davis also chimed in on the matter, stating that the FNM has done a "disservice" to Mr Gomez by even running him in the upcoming by-election.
Mr Davis said that his party might pursue the matter further, as it now boils down to the integrity of the individual and his party for running him.
As for Mr Gomez, he believes the matter to be of little significance, claiming that the people of North Abaco are more concerned about who they feel will represent them more effectively in the House of Assembly.
He said: "It's the people in Abaco who are going to vote. The people in Abaco are concerned about, can Greg Gomez represent them better than Renardo Curry. Is Greg Gomez an Abaconian? Yes I am. Can Greg Gomez represent Abaco better than Renardo Curry? Yes I can."