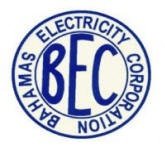 By NEIL HARTNELL
Tribune Business Editor
nhartnell@tribunemedia.net
A leading opponent of the Bahamas Electricity Corporation's (BEC) $105 million Wilson City power plant yesterday said "we got everything and more that we wanted" from Monday's Court of Appeal ruling, suggesting it would force the Government to end the "secrecy" that surrounded major investment and public works projects.
David Pictairn, who lives two miles away from the Wilson City plant on Bridges Cay, and is a major landowner/investor with interests in the Bahamas and the US, told Tribune Business that many issues associated with the project could have been avoided had BEC and the Government not "adamantly refused" to consult nearby residents.
The Court of Appeal ruling requires BEC to have "full and proper consultation" with Abaconians over Wilson City's operations going forward, while also giving them a say over the plant's plans and Town Planning approvals, plus construction of a dock and generator house.
Mr Pictairn said that to this day, BEC had resolutely refused to share Wilson City's plans with anyone, apart from the cover sheet showing they had been stamped 'approved'.
Apart from restoring the right of local people and local authorities to determine what happened in their respective Family Islands, Mr Pictairn said the ruling in favour of Responsible Development for Abaco (RDA) meant the Government would have to hold 'meaningful consultation' on all major investment and public works projects in future.
"I'm really, really excited that justice was done. I think it's amazing," Mr Pictairn told Tribune Business. "I think we got everything and more that we wanted to get, given that it was too late to have a say in making the plant better from the beginning.
"They [BEC and the Government] could have avoided a lot of the issues over the years that everyone was complaining about, because they adamantly refused to consult local residents.
"It will be great that in the future locals and local government will have more of a say in what goes on in their local area. It's definitely a vindication of efforts that we've been putting in over the years."
Mr Pictairn said he was "very surprised" to learn in 2008 that a decision to build the power plant had been taken as far back as 2005, and that it was proceeding.
The 2005 decision, taken by the first Christie administration, had initially proposed siting the new BEC generation plant at Snake Cay. But, according to RDA attorney Fred Smith QC yesterday, the Ingraham administration changed the location to Wilson City to accommodate a proposed resort/real estate development earmarked for Snake Cay - a project that has yet to materialise.
"Although Friends of the Environment had originally opposed Snake Cay, when the decision was made to change to Wilson City, Friends of the Environment and others then vigorously opposed Wilson City because of its more environmentally-sensitive location, and suggested that since the Government was going to build a waste disposal plant, a large dock and other potential industrial developments in the Snake Cay area, it was probably more sensible to have the power plant built at Snake Cay rather than at Wilson City," Mr Smith said, noting the latter location's proximity to National Parks.
"Alas, no one would listen, and the FNM steamrollered into Wilson City, bulldozing old mahogany forests, caving in sensitive and environmentally unique blue holes, tearing down huge swathes of forest all the way down along the water's edge to build a docking facility to barge in fuel boats through the National Park and destroying coral reefs."
Mr Pictairn, meanwhile, said the Court of Appeal ruling would give RDA and Abaconians access to data on air monitoring that has been done near the Wilson City plant.
He added that BEC's failure to heed suggestions that low-intensity lighting be used at Wilson City had created "massive light pollution for our community", and said: "It looks like Marsh Harbour in Wilson City."
But, armed with the court verdict, Mr Pictairn said: "One hundred per cent of everything is going to be different.
"For every major project or public works they will have to consult local people, otherwise this process [Judicial Review] will have to happen again. I hope the Bahamas government doesn't want to go through this process every time they do a large project, and do it secretly and do it incorrectly."
Mr Pictairn said that moving forward he expected the Government to better use Bahamian and foreign expertise that public consultation would make available, as this could help it avoid "the embarrassment" of failing to install power lines that connected Wilson City to the BEC transmission grid.
"These ongoing problems could potentially have been avoided with consultation," he added, pointing to the fact BEC had not only been forced to keep its Marsh Harbour plant - exactly what Wilson City was intended to replace - running, but also upgrade it.
"We were not fighting just the environmental aspects, but to improve the actual plant itself. Abaco needs reliable power, and we could have helped with that," Mr Pictairn told Tribune Business.
"If they'd actually been open about entering into negotiations with Man Diesel, been open about what kind fuel they's use, the plans as to where to put the plant, if they'd been more open to improving the whole thing, it would have saved a lot of time, money and effort,"
Mr Pictairn said he, RDA and other Abaco residents planned to be involved with any future changes to Wilson City to "make sure things are done in a proper manner".
Mr Smith, for his part, said the case continued the 'respect the locals' charge started with the Baker's Bay court actions.
Of the Wilson City ruling, he added: "From now on, no central government authority, Office of the Prime Minister, Nassau public authorities, Town Council, District Council or other public authority can make any decisions affecting residents without taking into account how it might affect a local resident.
"This ruling emphasises that people have rights and they must be respected as part of the process by public authorities in making decisions."
He added: "In addition, this case gives a death blow to the unfortunate 'anchor project policy' of the PLP commenced years ago.
"It also spells the 'death knell' to the FNM's dictatorial Office of the Prime Minister approach to telling the Out Islands paternalistically what is or is not good for them."