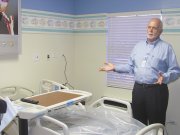 THE Bahamas Medical Centre, on Blake Road, which will play a key role in Doctor's Hospital's international patient programme, is now officially open.
 The facility will provide convenient access to emergency care, laboratory, imaging and rehabilitation services, as well as major and minor operating theatres for elective procedures and doctors' appointments for people living and working in western New Providence.

The Blake Road facility also houses the International Patient Programme. Every year, thousands of patients from the US and Canada travel to the Bahamas to receive affordable, world-class health care, and the Bahamas Medical Centre aims to meet this growing need.
 "We recognise that skyrocketing US medical costs have forced many patients to pursue more affordable health care alternatives outside of the US," said Charles Sealy, chief executive of Doctors Hospital.
"With savings of 30 to 50 per cent over US prices for health care procedures, the Bahamas Medical Centre offers our international patients the affordability they need without sacrificing the quality health care they deserve."
 Since the Bahamas Medical Centre is only a short 30-minute flight from Miami, it serves as a convenient medical tourism destination for patients travelling from the US.


To provide a more comfortable, welcoming atmosphere for its patients, the Bahamas Medical Centre has been designed to feel more like an upscale, boutique hotel. Patients and their families can enjoy an on-site outdoor pool and Jacuzzi,as well as cafeteria.
The emergency room is initially open from 7am-11pm, with the intent to expand to 24-hour service as the need is assessed.
Residents with late night emergencies have already taken advantage of the nearby emergency facility, ensuring that they or their family members receive high quality medical care as quickly as possible, while Bahamian physicians have taken advantage of the opportunity to treat their patients closer to where they live and work by scheduling appointments at the Sessional Clinic.
Doctors Hospital Health System has subsidiary companies, two of which are Doctors Hospital Bahamas and Bahamas Medical Centre, both of which will assist local and international patients with their health care needs.