By KHRISNA VIRGIL
Tribune Staff Reporter
kvirgil@tribunemedia.net
FRED Mitchell, Foreign Affairs Minister, says there are clear indications of an "internal friction" inside the Free National Movement.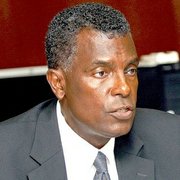 He made his comments yesterday outside the Cabinet Office, in response to Opposition Leader Dr Hubert Minnis' statement that the FNM would now move beyond the "Hubert Ingraham factor" in the wake of the North Abaco bye-election defeat.
While the official results have not been released, the unofficial tally concluded that the governing party's candidate, Renardo Curry, defeated the FNM's Greg Gomez at the polls.
"I found his statement to be extraordinary," said Mr Mitchell. "Mr Ingraham has contributed to their victories, he himself (Dr Minnis) became a minister of the government because of Mr Ingraham's choice of him as minister of health.
"So it's really incredible that a succeeding leader of the party would make the kind of statements he made about his predecessor without there being some serious internal friction inside the FNM. Clearly Mr Ingraham is a very powerful man inside the FNM who still has a lot of popularity in the FNM.
"How does a succeeding leader come and trash a man who was before him? It just doesn't seem a wise thing to do to me."
Conceding defeat on Monday night following the bye-election, Dr Minnis, while thanking supporters said FNMs must now follow the party's leadership in a new direction. 
After thanking Mr Ingraham for his support Dr Minnis said: "The Ingraham factor will now be behind us and we must see the new FNM moving forward and the direction I want to take them in."
He added that the defeat that saw the PLP win 2,367 votes to his party's 1,513 was a mere temporary obstruction that will not hinder the FNM's progress.
"We will move on and be ready for 2017, hopefully before, and I can assure you we will be a stronger, more vibrant party and we will be successful," Dr Minnis said.
Despite ratifying a candidate whose campaign was controversial, Dr Minnis attributed his party's loss to intimidation of North Abaco voters by PLPs. He also noted that a low voter turnout was also to blame.
Parliamentary records show that 3,887 voters turned out to the polls out of an estimated 4,000 possible votes.