By FARAH
Tribune Features Writer
jgibson@tribunemedia.net
Berkley Morris, popularly known as Berkley Vanbyrd passed away on October 17 at the age of 59. He succumb to a long battle with cancer, leaving behind many who loved him as a man and a musician.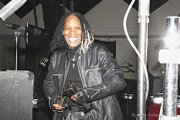 With a mic in his hand, Berkley would sing his heart out anywhere he went. He accepted any opportunity to perform, even if it was at someone's house, said Bahamian artist Plati, remembering her colleague.
Earlier this year, Berkley was diagnosed with multiple myeloma. According to a family member he was also fighting prostate cancer.
In August, he took ill and was rushed to the trauma section of the Princess Margaret Hospital. His family made a public call for blood to be donated in his name. His condition eventually improved and he was released from the hospital. He was under doctor's orders for bed rest while he underwent chemotherapy treatment.
However, destiny had another plan for Berkley.
Mr Morris who was also a former drummer and lead vocalist of the T-Connection band, a funk and disco group that had two major hits on the Billboard Hot 100 between 1977 and 1979, is being remembered as a "pioneer", who always advocated for Bahamian musicians to be given their roses while still standing.
"Berkley was an inspiration to me. He was someone that totally exemplified showmanship, charisma, energy and consistency. Just watching him perform corrected me as an artist. I always saw him as a mentor and to me he was the best Bahamian musician. I have the highest respect and esteem for Berkley. He loved to perform and he never turned down an opportunity to do so. You could put a mic in his hand, and he would sing in your house. That was just the kind of artist he was, and he will be truly missed," Plati told In Ya Ear.
For over thirty years Mr Morris has performed for audiences all over the world. With the T-Connection band, he performed on American Bandstand, Soul Train, Top of the Pops, TV specials with the Bee Gees, Donna Summers, Village People and others. He also performed at the Drum Beat Club from 1989 to 1992. Most recently, Mr Morris regularly performed at Festival Place.
"Vanbyrd was the most popular person in our band," said guitarist Dave Mackey, in an online interview. "He was such a people person. Fans gravitated toward him and he loved flamboyant and attention-getting clothing. Berkley liked to stand out, and he did," said Mr Mackey, speaking of Mr Morris' trademark colourful braids.
Some of Mr Morris' tourists favourites include "Day-O Medley", "Uncle Lou", "In the Bush", "Never Been So Cold Medley", "Where You Going To Go Next Year".
"Berkley was a pioneer in our Bahamian industry. He was also a great drummer and a great vocalist. But here in the Bahamas they do not give you flowers while you are alive and Berkley always fought for artists to be recognised for what they have done," said Ira Storr leader of the Spank Band.  
In the past Mr Storr shared the stage with the artist. He said not many artists exhibited a passion and energy for music like Mr Morris. And as one of the leaders in music, who have paved the way for other artists, he said Mr Morris deserved much more recognition than he was given.
"I must say people like Berkley and T'rez Hepburn were great artist and stars of our country. I would like to see all of the artists who are still around get their flowers. We have to come together and fight for what we deserve," he said.
Mr Morris is the second Bahamian artist to pass way in recent months. Bahamian songstress T'rez Hepburn passed away last month.
Funeral arrangements for Berkley Glinton Morris will be announced.