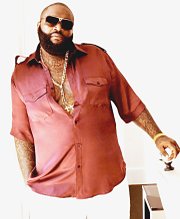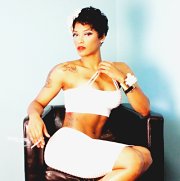 By FARAH
Tribune Features Writer
jgibson@tribunemedia.neT
ORGANISERS of the mega concert featuring international rapper Rick Ross say Bahamians will not be disappointed. The hit maker with his customary shirtless antics is ready to perform at the 100 Jamz' birthday bash, scheduled for Saturday at Mario's Bowling & Entertainment Palace.
Rain or shine, the indoor event is one, with scheduled guest host Joseline of VH1's Love & Hip Hop, Atlanta. Also included on the line up is Young Gunz, Bahama Boyz, M-deez, Jah Hem, Jamaican artist Teff.
Event organiser Lisa Tottle assured fans that Rick Ross will be here on Saturday and ready to perform. Alluding to the disappointing finish to the highly promoted Movado concert this Summer, which saw two replacement artists headlining the show, she said Bahamians need not be apprehensive. Ms Tottle said this will not happen with the Rich Forever event.
"Some people are concerned that Rick Ross is not coming because he is a big name artist and he is one of the hottest rappers in the game right now. Their apprehension is understandable and this is the reason why we did a drop on the radio. There is no need for people to be concerned, Rick Ross is performing," she said.
Ms Tottle said Mario's will be decked out with drapery, light fixtures, chandeliers, fog and smoke. And for the night, Club Elements will be dubbed Club Rozay.
"The inside will be totally transformed. We are moving all of the pool tables, chairs, and the bowling lanes will be covered," she said.
Rick Ross and his entourage of twelve is expected to hold down the stage for about one hour, performing his current and old hits. No other names from the Maybach music clan were released.
"He is doing it just like a BET or any award show performance. The shirt is definitely coming off."
So far the only demand the Teflon Don has made is that he wants some chicken wings waiting on him when he steps off the plane on Saturday.
"He has been very easy. He has not made any crazy demands, and that is a surprise because he is one of the hottest rappers right now. All he wants is some chicken wings. He doesn't need a particular limo or anything like that. Ross is just a rider and he is excited to be coming back to the Bahamas," Lisa said.
The Rich Forever event was originally billed to feature the entire cast of VH1's Love & Hip Hop Atlanta. However, some cast members had difficulty with travel documents.
"So Rick Ross, who is on tour now, called me back and said he was free on October 27. So we decided to do the event featuring him and Joseline. She is very excited because this is the first time she is making an international appearance," Lisa told In Ya Ear.
The entire 100 Jamz crew will be at the event also providing entertainment for the show.