By BRENT STUBBS
Senior Sports Reporter
bstubbs@tribunemedia.net
TEMPLE Christian kicked off its third annual Bahamas Gold Trading Primary Schools Basketball Tournament at its gymnasium with four exciting games played yesterday.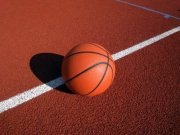 Tournament director N'Keno Demeritte said he was pleased with the way they got started, although they had anticipated playing five games.
"I think the first day was a success. The tournament turned out really well with the number of teams we have entered," Demeritte said. "The competition is really good. I expected to see some keen competition amongst these schools and that is what is being displayed here. Carlton Francis boys look like they are going to be the team to reckon
with."
Demeritte, by the way, also coaches his boys and girls teams and while the girls have won the tournament from the inception, he's hoping that the boys will get a chance to join them as champions this year.
"It calls for a lot of boxing out and rebounding," Demeritte said. "But the two teams are fundamentally sound. We just have to work more on our defense."
Sherman Smith, whose girls have been the bridesmaids to the Suns girls over the years, said they're not as strong this time around, but he likes the chances of his boys.
"My girls are a bunch of new girls. The girls who played with us in the past have all gone on to grade seven. I have a lot of girls from grades four and five. There are only two grade six girls," Smith said.
"But my boys are looking good. We are looking forward to winning the title this year. We have about three boys that are really good. They should help us to win it this year."
One of the teams not to be out-done is Genesis Academy. Even though they lost their opener to Temple Christian, coach Avery Lightbourne is still optimistic that they will make their presence felt.
"I think they performed very well. It's been hard getting them together for tournament play looking at the whole school curriculum," he said. "But I think they had an excellent performance. We could do a little more with our defense. It's just about working with them and ensuring that when we play again on Wednesday, we can clean up some of the mistakes that we made today."
Without a league to participate in, Lightbourne said they look forward to the tournament and after finishing third last year, they're hoping to improve on their performance.
"It's a great tournament. I thank Mr Demeritte for inviting us. It's always a pleasure to come in here and seeing the kids give it their all," he said. "The emotions is so high because they actually feel bad and is so passionate about the game especially when they lose. So it gives you the encouragement to work with them."
Monday's highlights:
Suns 15, Bluewaves 7
Tre Fowler scored six and Nathan Moss had three as Temple Christian boys team took their opener.
Malik Kemp scored four in a losing effort in the lowest scoring game of the day.
Carlton E Francis 29,
Giants 18
Javon Woodside went on a scoring rampage, falling one point shy of out-scoring St John's with his game high 17 points for Carlton E Francis. Garvin Clarke added 10. Ulric Mortimer and Wayshad Hanna had four and three respectively in the loss in the most keenly contested game of the day.
Suns 26, Carlton
E Francis 3
Taylor Lightbourne was unstoppable with a game high 17 and Tamia Arthur chipped in with six for the defending girls champions from Temple Christian.
Anya Farrington produced all three points for the losers in the most lop-sided game of the day.
Suns 33, Genesis
Academy 15
Najee Winder had a game high 12 points and Lowell Sweeting and Giovanni Ferguson came up with seven and six apiece as the other Temple Christian boys team put on a show. Chandon Kelly came through with nine, while Daniel Robinson, Ajai Hart and Vanrick Bastian all finished with two in the feature game of the day.
The tournament is scheduled to continue 3:30pm today and run through Friday when the boys and girls champions are crowned.