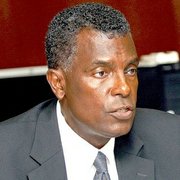 By CELESTE NIXON
Tribune Staff Reporter
cnixon@tribunemedia.net
THE "mismanagement" of the country's economy under the former administration has led to $500 million deficit, Minister of Foreign Affairs Fred Mitchell said.
Hitting back at FNM shadow Finance Minister Zhivargo Laing's complaint that the government has failed to adequately address unemployment, Mr Mitchell said the FNM crippled the economy by initiating programmes with hefty overruns, including the road works project, which has exceeded its initial budget by $100 million.
He said: "Their mismanagement of the economy necessitated a $500 million deficit, exceeding the road works programme in New Providence by almost $100 million, and inflating the government payroll with gratuitous contracts to their friends and cronies.
"It is clear that the fiscal policies and reckless spending of the FNM were pushing the economy and the public treasury to ruins."
Mr Laing accused the government of leaving hundreds of Bahamians without hope as the former administration's temporary work programme comes to an end.
Defending the FNM's record, Mr Laing said in response to massive job losses caused by the global recession the FNM government invested almost $50 million to provide four thousand jobs over a 52-week period – the second such programme following a six-month job scheme.
"Today, hundreds of these Bahamians find themselves at the end of the programme going home without one iota of hope for either a temporary job or a permanent job to sustain them," he said.
Calling on the government to extend the programme, Mr Laing said there must be funds available, "because tucked away in the Prime Minister's own office budget is $25 million earmarked for nothing in particular."
Mr Laing said the PLP should do what the FNM did and invest in people.
"Still yet, millions of dollars are being spent to provide jobs for PLP MPs and Senators by appointing the largest Cabinet in the history of the Bahamas," he said. "Invest that money in unemployed Bahamians, not PLP politicians."
According to Mr Mitchell however, the 52 week programme was "political scheme" the aim of which was to keep the FNM in office and went over budget by more than $20 million.
"The emergency of which he speaks is a manufactured one and one entirely of the making of the FNM," Mr Mitchell said.
He said the government will be looking at every person hired under the old programme on a case-by-case basis and those persons who are needed and can be funded will be returned to the public payroll.
Additionally, the government is in the process to launching a national jobs training programme which will be designed to address the skill needs and demands of the economy, Mr Mitchell said.
He said with the country facing an IMF audit, the government intends to "present a picture of a plan to rescue the nation, with reasonable policies, fiscal prudence and yet supporting the job security of our people."