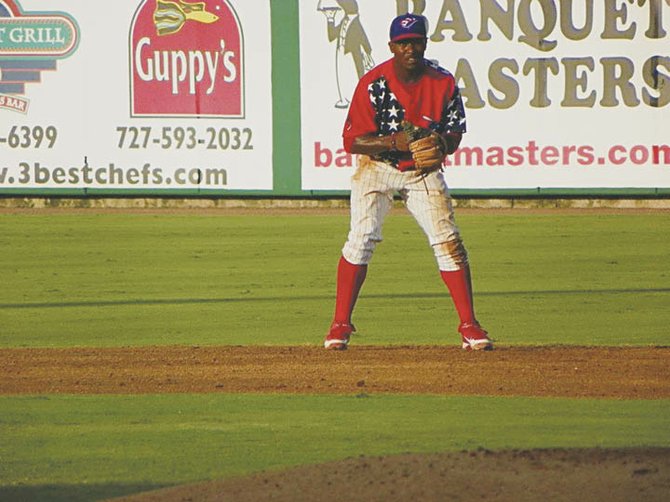 By BRENT STUBBS
Senior Sports Reporter
bstubbs@tribunemedia.net
Although their paths have not crossed yet as the two pioneers for the Bahamas in professional baseball, Albert Cartwright and Antoan Richardson will come together and display their talents together as members of Great Britain's team at the World Baseball Classic.
With the Bahamas not having one of the 28 teams entered in the four different round of qualifiers (modified double elimination) that will begin this month, Cartwright and Richardson have been named to Great Britain's team by virtue of our international affiliation.
Richardson, who was preparing for Bowie Baysox playoffs in the Double-A Eastern League, was unavailable for comments. But Cartwright, whose Clearwater Thrashers were eliminated from the post season in the Class A Advanced Florida State League, said he was thrilled to get the opportunity to team up with Richardson for the first time. (see story on E12)
"I watched Antoan play when I was growing up and I know he's a class act," Cartwright said. "So going to Germany and playing with Antoan, I know it's going to be a lot of fun. I don't know what to expect because we have never played on Team Britain and so we don't know how they are coached or their style of play. But it's a first time for everything and we are going to get that opportunity to play together for the first time."
The duo are scheduled to leave the United States on September 16 for the qualifying round that is slated for September 20-24 in Regensburg, Germany. The other three teams participating are Canada, the Czech Republic and Germany.
"As much as he pushes me when I'm not on the team, I know that now that I'm on the team with him, he's going to have just as high expectations for me as he does for himself," Cartwright said. "So it should be a lot of fun as we play together. We only played a little bit in night league home, so it's good to get to play together at the pro level."
In Germany, Cartwright and Richardson will play for Great Britain against Canada on Thursday, September 20. Their next game will be on Saturday, September 22 against a team to be determined. They will either play their final game on Sunday, September 23 or Monday, September 24. While they are playing in Germany, another qualifier will take place in Jupiter, Florida, September 19-23 between Spain, France, Israel and the Republic of South Africa.
Then from November 15-19 in Panama City, Panama, the third qualifier will be staged with Brazil, Colombia, Nicaragua and Panama, while the fourth qualifier will be in New Taipei City, Taiwan, November 15-18 between New Zealand, Philippines, Thailand and Chinese Taipei.
The four winners from each qualifier will advance to the 2013 World Baseball Classic where they will join 12 other teams that have already qualified.
The other 12 teams from the 2009 World Baseball Classic – Australia, China, Cuba, Dominican Republic, Italy, Japan, Korea, Mexico, Kingdom of the Netherlands, Puerto Rico, United States and Venezuela – will be included in 2013 based on their performance last time.
Four of the teams in the qualifying round – Canada, Chinese Taipei, Panama and South Africa – participated in the 2009 World Baseball Classic but did not win a game.
The first World Baseball Classic was held in 2006, and the second took place three years later. The World Baseball Classic is an international baseball tournament sanctioned by the International Baseball Federation (IBAF) and created by Major League Baseball (MLB), the Major League Baseball Players Association (MLBPA), and other professional baseball leagues and their players associations around the world.
It is the main tournament sanctioned by the IBAF, which names its winner the "World Champion." It previously coexisted with Olympic Baseball (until 2008) and the Baseball World Cup (until 2011) as IBAF-sanctioned tournaments, but the other two have been discontinued.