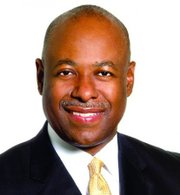 By NATARIO McKENZIE
Tribune Business Reporter
nmckenzie@tribunemedia.net
TOURISM minister Obie Wilchcombe yesterday said that while air arrivals were trending upwards by up to 11 per cent, "we're still not where I want us to be". He told Tribune Business he was looking at increasing the numbers, particularly out of the Florida market.
"Right now we are looking at increasing our number out of Florida; I don't think we are doing as well as we should from Florida," Mr Wilchcombe said.
" We want to get more from New York and, generally, the north American market. The markets we have to look at very strongly are the Latin American markets and the Asian markets.
"Air arrivals are up in the 11 per cent range in New Providence and Grand Bahama, so our numbers are up about 9-10 per cent, but we are still not where I want us to be because we are still seeing slow months.
"The months of September and October are generally slow. We have to get rid of that. I am appointing a team to deal with the slow months, to get some things going so we can have some year round visitors."
Mr Wilchcombe said his ministry was also making strides in improving the level of service in the tourism industry.
"I think generally the Bahamas has to fix service. Whether it's service in the hotel industry or the airline service industry, we have to fix our service," he added.
"I think we have to determine what standards we go after. I am impressed with the Asian standard, particularly when you look at Singapore, and when you look at what is happening in China, the Asian standard is very high.
"I think the Bahamas has to determine that when it says it's better in the Bahamas that it means that everything we offer in the Bahamas is better, particularly service.
"What distinguishes the Bahamas from the others must be the service. You can go other places for sun, sand and sea, but what should set us apart from everyone else is service, and so we have been working with the University of Houston - and I have been working with educators here - to try and design a new training programme to cause for an improvement upon even what Bahama Host is now."
Addressing queries over the fate of the Grand Lucayan resort on Grand Bahama, Mr Wilchcombe said: "Negotiations are continuing, and I know for a fact that negotiations with the the developers they are talking with are going quite well.
"Hopefully very soon we will be able to give the details of the arrangement that's been made, but I'm very optimistic."
Mr Wilchcombe, while not disclosing who the developers were, confirmed it was a group from Canada. He denied media reports of labour union interference in the negotiations.
The Bahamas Hotel, Catering and Allied Workers Union's (BHCAWU) vice-president, Darren Woods, told Tribune Business the union had also been taken aback by the reports, stating: "We haven't been in any discussion with them as it relates to what is happening."