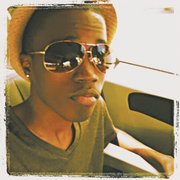 By LESH
Tribune Features Reporter
acadet@tribunemedia.net
EVERY music lover can agree that they have heard the sounds of "Bahama hama hama" going off on the best radio stations in the country.
Who would have thought the artist behind the song is an 18 year old, whose aspirations are to one day be the best Bahamian rapper there is.
Brando Major, also known as his stage name "Major Boy Dunna", said the popular song
"Where You From", which some people know as "Bahama hama hama", has been getting nothing but love, the best reviews, since its release last year.
Brando's song was debuted while he was a guest on 100 JAMZ's Morning Madhouse show with King C-Note. Nothing was the same after that day.
He said to hear his music being played on radio stations was a crazy, but amazing feeling. "Not only by the radio but I would walk past cars or be sitting on the bus and someone would have my song on a CD listening to it; I felt like a million bucks," said Brando.
With the single, Brando said he wanted to paint a picture for people. He said this picture was not only for Bahamians, but outsiders as well.
"I wanted to tell what it means to be a Bahamian and what my country is all about. The message was simply telling how different each area in the Bahamas is and what they are known for," said Brando.
He said as far as his you-tube views, Facebook likes and subscribers, the feedback for the song has been great. And trying to keep up with the times, Brando said he has been continuously putting out hot tracks.
"I have performed to about fifteen venues in the country, mainly teenage parties and clubs, but my greatest performance was performing alongside Ronny Butler at a Scotia Bank event that was held last year. This was held for the Boys and Girls Industrial School. I must say I was scared at first, but after I found out they all knew the lyrics to the song, I started to feel comfortable," said Brando.
Speaking about a music video in the making for the video, he said
"There is not a music video out for it, and yes I would love to make a video for it. I was actually in negotiations with a few Bahamian video producers to make a video but due to certain circumstances, I was not able to."
Brando's other songs include
"Cuttas", his second single, and "Flyer Man", a collaboration with local artists So Serious and Duckie."I am still working on new music and as a matter fact, I released a song recently, making a tribute to the Golden Knights. The song is called "We Got the Gold", featuring Crank Leon.
When asked if he thinks his new songs will be as big as
"Where You From," Brando said he can only hope so.
"Seeing that "Where You From" was my debut song I feel like it sticks to Bahamians more and so anytime someone speaks about me usually they're like Major Boy Dunna, you know the boy who sings that Bahama Hama Song. And so they all remember me for that, but I really hope to capture the hearts of Bahamians by releasing more and more Bahamian songs.
Hopefully I will have them played on all radio stations which as of lately hasn't been an easy task," said Brando.
He said he also hopes to one day sign a major record deal, but until then, he has decided to focus on his other talents such as graphic and web designing, drawing and song writing.
"I try to stay as grounded as possible. I never let my music get to my head and think I'm above anyone else. I prefer to write and record songs once a month, and in between, hangout with friends and family. I don't think my music has affected me in anyway as far as changing who I really am and that's Brando Delton Navarre Major," said Brando.