By CELESTE NIXON
Tribune Staff Reporter
cnixon@tribunemedia.net
GIVEN the crime rate, Minister of Education Jerome Fitzgerald said, there is nothing wrong with police officers carrying guns in schools – provided they have the proper authorisation.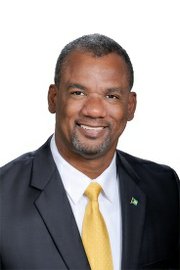 Responding to criticism of the government's school policing programme by former Minister of Education Desmond Bannister, Mr Fitzgerald said whether or not police are armed while posted in schools is up to the Ministry of National Security and the police.
He said: "With regard to the issue of police being armed within the school gates or outside the school gates, I have made the point that I do not see the difference.
"Either the police are authorised by the Commissioner (of Police) and the minister of National Security to carry arms, or they are not.
"We at the Ministry of Education trust the police and their discretion off and on campus," Mr Fitzgerald said at a press conference yesterday.
Over the weekend, the FNM hit out at the school policing programme, accusing the government of having "no clear understanding" about the details – including an "uncertainty" about whether officers on school grounds will be armed.
Mr Bannister called the programme a shortsighted PLP policy which marks students as potential criminals.
"The FNM is concerned that 200 police officers have been removed from regular policing duties and posted at schools around New Providence, Grand Bahamas and Abaco in a school policing programme," he said, "the details of which neither the assistant commissioner of police in charge of the programme nor the Minister of Education appear to have a clear understanding of."
Mr Bannister claimed that assistant commissioner Leon Bethel has publicly indicated in no uncertain terms that officers entering the schools would not be armed.
However, he noted that on a radio talk show, Mr Fitzgerald said police officers qualified and authorised to carry guns would be armed when they entered school campuses.
"We in the FNM agree that guns have no place on our school campuses," he said.
Defending the programme, Mr Fitzgerald said the government was elected on promises made in the Charter for Governance, which included returning police to schools.
"I accept that the FNM and others are opposed to this, but we will not be deterred as we take proactive steps to ensure that our schools are safe for our students and teachers," he said.
Mr Fitzgerald said the state of crime in the Bahamas makes it necessary for police to arm themselves to protect the general public.
"I personally find the argument that police should not carry arms on school campuses somewhat illogical and impractical when one understands the reality in our country," he said. "I am not one to argue with a system that works, and one that is designed to create a safer environment for all."
There is a no tolerance policy for violence on public school campuses, he said.