By SANCHESKA BROWN
Tribune Staff Reporter
sbrown@tribunemedia.net
PRIME Minister Perry Christie said yesterday that the information on how the profits from oil drilling will be shared as well as changes to current legislation will be announced prior to the oil referendum next year.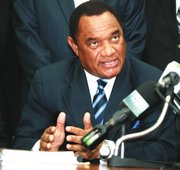 Speaking to the press outside Cabinet yesterday Mr Christie said a part of the referendum process would be preparing the Bahamian people for what could possibly happen.
"This would be a new process and therefore there will be amendments to the existing act in terms of new legislation which will also embrace the sharing of monies and how monies are shared in respect to the industry," he said.
"If the people of the Bahamas are satisfied that their best interests are protected there will have to be a regime put in place prior to the referendum. I mean, you could go to a referendum first, with the promise that afterward we would do it. But we have to prepare the people."
The Prime Minister said the referendum on oil drilling is likely to be held in 2013, but only of certain other factors fall into place.
On Monday, Leader of the Opposition, Dr Hubert Minnis challenged Mr Christie to "not be a government of referendum" and make up his own mind on the issue and act – not pass the buck to the Bahamian people as he was elected to govern.
Dr Minnis also criticised Mr Christie's ability to remain impartial seeing that he once worked as a consultant for the Bahamas Petroleum Company (BPC).
It was recently announced that BPC fulfilled all its required license and regulatory obligations and was therefore granted a three year license allowing them to drill test wells in Bahamian waters.
Mr Christie said there was nothing wrong with advising BPC because he was a "lawyer" at the time and not a prime minister.
"I am a lawyer. In Opposition, I am a lawyer. Dr Minnis is a surgeon. People in public life when they are not in government they are free to do those things to live and the fact of the matter is that I performed consultancy services in a very limited way in the Davis law firm," he said.
"The consultancy led me to give them the best advice for them because I have never felt that Mr Davis' law firm would be received by the then government in the way that other law firms would and so I gave them specific advice they followed it and therefore moved away front the very criticism that was being made."
"Dr Minnis must empathize the greatest care when he makes judgment on people's integrity. The one thing I pride myself with is that in my entire 35-year political career in the House of Assembly, is being able to abide by the codes of ethics that a public figure should. You don't have to back door me or go through all sorts of arguments about what I am. I pride myself in being someone who identifies a commitment to integrity and public life."
Mr Christie said he was hired through the law firm of Davis & Co, which was headed by now Deputy Prime Minister Philip "Brave" Davis.
Graham Thompson & Co, of which former PLP attorney general Sean McWeeney is a partner, was also listed on the BPC's website, as was PLP candidate for Killarney Jerome Gomez as its resident manager. However, Mr Gomez lost the Killarney constituency on May 7 to Dr. Hubert Minnis.