By LAMECH JOHNSON
Tribune Staff Reporter
ljohnson@tribunemedia.net
THE absence of key witnesses to the January 2008 murder of a C R Walker student at a bus stop resulted in the prosecution discontinuing the case against the man accused of the fatal drive-by shooting.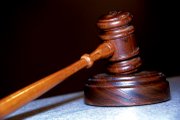 Yesterday, prosecutors Vernal Collie and Anishka Hanchell entered a nolle prosequi before Senior Justice Jon Isaacs indicating the Crown's intention not to continue the prosecution of 24-year-old Jamal Penn at the present time.
Penn is charged with the January 7, 2008 shooting death of 18-year-old Deangelo Cargill Fowler. Penn, who denies the charge, was defended by attorney Murrio Ducille and his associates, Ron Pinder, Krysta Mason-Smith and Nathan Smith.
Around 3:40pm on the day in question, Fowler was among a group of friends at a bus stop on the corner of Bay and Frederick Streets when someone in a passing car opened fire and shot him.
The trial was expected to begin on Monday. However, following the empanelling of the jury prosecutor Vernal Collie requested an adjournment to Tuesday as the prosecution was not ready to proceed.
The following day, the Crown again asked for an adjournment on the basis that they were receiving advice from the Attorney General. Senior Justice Jon Isaacs allowed the adjournment.
Yesterday morning, the Crown lawyers came to court with not one, but two nolle prosequi signed by Attorney General Allyson Maynard Gibson, and presented them to the court.
Justice Isaacs accepted the directives and told the accused, also known as Tony Smith, that regarding the current trial, the Crown would discontinue the case against him.
However, the judge informed him that the Crown had the right to re-introduce the charge against him at a future date if they wished, though, he said, it was "unlikely."
The second nolle prosequi was presented in reference to another murder case for which Penn had yet to stand trial. He was accused of the February 18, 2010 murder of 19-year-old Randol Thompson.
Penn was remanded back to Her Majesty's Prison as he has a pending matter before the courts.