By CHESTER ROBARDS
Tribune Staff Reporter
crobards@tribunemedia.net
THE PUBLIC Hospitals Authority has agreed to bring a resolution to all the issues outlined in a letter sent by Grand Bahama Emergency Medical Services staff to Minister of Health Dr perry Gomez, according to Bahamas Public Services Union president Johns Pinder.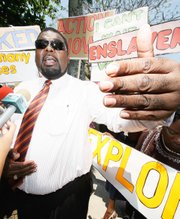 A number of EMS personnel staged a sick-out on Friday, forcing the PHA to activate its emergency response plan and pull medical staff and EMS workers from other parts of Grand Bahama and from New Providence.
According to Mr Pinder, his union and PHA representatives immediately came to the table to negotiate a quick end to what was being viewed as illegal industrial action.
He said Minister of Labour, Shane Gibson, was also notified.
However, Mr Pinder said the staff is entitled to sick days and that their action was not illegal.
"It was just unfortunate that a number of them called in sick," he said.
He added that the action taken against the staff by the PHA when they were sent home the next day, could be viewed as an illegal lockout.
"We are waiting to see if any suspension letters will be issued," said Mr Pinder. "They mentioned to us that some people will be disciplined."
The EMS staff threatened in their letter to the Minister of Health to withhold their services – legally – if the government does not assist them in meeting the terms outlined in their letter.
"We were in a lengthy meeting all Saturday," said Mr Pinder. "They (PHA) have agreed to bring a resolution to all of the outstanding issues."