By NOELLE NICOLLS
Tribune Features Editor
nnicolls@tribunemedia.net
MEN must "step up" and work shoulder to shoulder with women in the fight against domestic violence and sexual violence, said Prime Minister Perry Christie, making a "special appeal" at the opening ceremony of the Bahamas Crisis Centre's regional Peace Conference on Tuesday.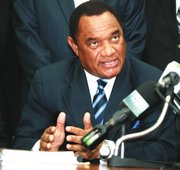 "We know that women are in the forefront of this fight and we need more men to step up to the plate, get involved and become advocates for the right kind of behaviour, the right kind of conduct. This is throughout the entire country," said the Prime Minister.
"We need men to step up and join the women-shoulder-to- shoulder. It becomes a much healthier process and a much more successful process," said Mr Christie.
He noted the conference session dedicated to men's advocacy, and recognised organisations such as the Caribbean Male Action Network (CariMAN) for the work they are already doing. However, he said, more men need to step forward and "become stronger voices of support against domestic violence."
"I say, stronger, because men have provided support, but for far too long, women have been in the forefront leading the cause against gender based violence," said Mr Christie.
This year, the annual conference commemorates the 30th anniversary of the Bahamas Crisis Centre, which continues to provide advocacy and services to victims of violence. Under the theme "Peace at Home, Peace in our Community", the three-day conference is geared towards creating partnerships and solutions to transform Bahamian homes and communities.
Delegates represent various CARICOM countries, including Cayman Islands, Dominica, St Lucia and Jamaica.
Mr Christie said he was looking forward to hear "recommendations for solutions to bring about peace in our homes and peace in our communities," as a result of the conference and the work that would follow.
If the efforts of the conference "cause one less child to be molested, one less woman to be raped, one less woman to be battered," then they would have been a success, said Mr Christie.
He praised the spirit of volunteerism at the ceremony, saying there is "something special" about people who have the vision to do something special for others who are hurting, and contribute with no financial reward. The level of achievement attained by volunteer organisations like the Bahamas Crisis Centre, he noted, is even difficult to extract from paid workers in the public and private sector.
The conference continues at the Sheraton Nassau Beach Resort and Casino until Friday. Follow Tribune Features Editor @noelle_elleon on Twitter for updates throughout the conference.